Visiting Ghibli Park & Ghibli's Grand Warehouse
A report straight from the newly-opened Ghibli Park Grand Warehouse. It's a must-see for fans of Totoro, Spirited Away, or any other Studio Ghibli film!
Ghibli Park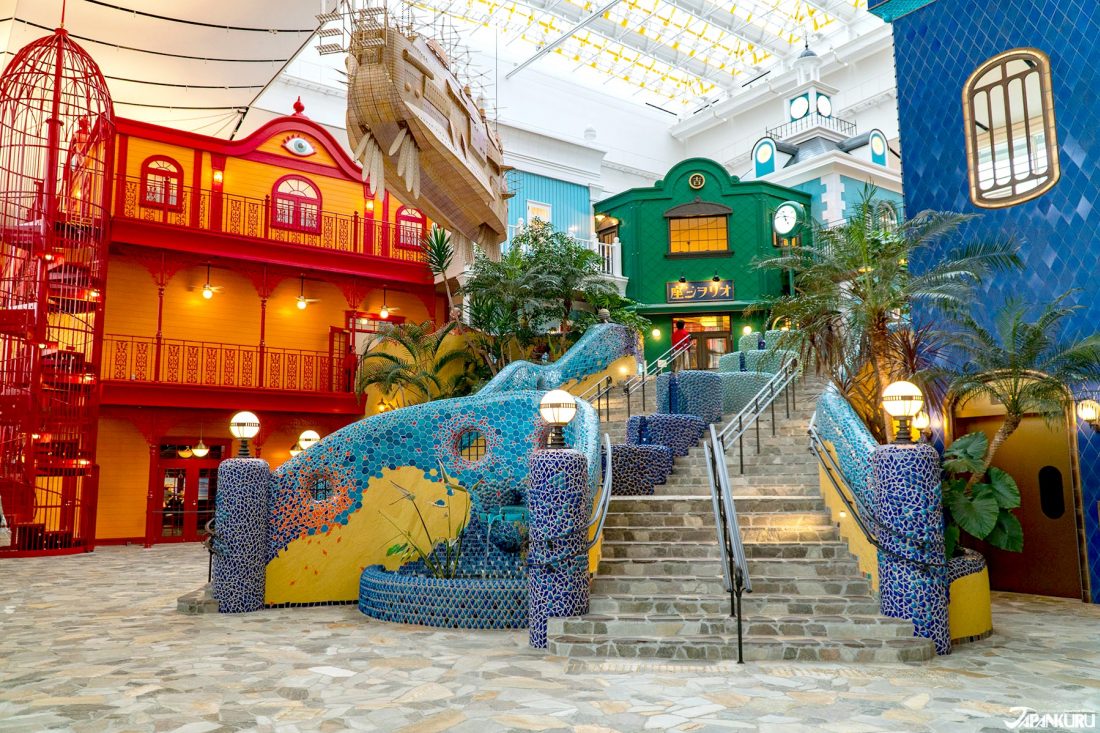 From the moment the new Ghibli Park was announced back in 2019, all of us on the Japankuru team knew that we needed to see it, and the prospect of waiting all the way until 2022 for our very first glimpse seemed unbearable. Then the pandemic began, and things went a little haywire. But fortunately for all the Ghibli fans around the world, construction stayed pretty much on track, and a large chunk of the new Ghibli Park opened on schedule at the end of 2022. Soon, Japan's borders were wide open to travelers and Ghibli Park tickets became available for purchase all around the world – the time had finally come for the Japankuru team to go and take a look. With our eyes full of stars and our imaginations bursting with Totoro catbuses and friendly No-Faces, we headed to Aichi Prefecture to take a look.
Ghibli Park (ジブリパーク)
Expo 2005 Aichi Commemorative Park (Moricoro Park),
Ibaragabasama-otsu 1533-1,
Nagakute, Aichi
Official Website (jp)
Getting Ghibli Park Tickets (and Getting to the Park)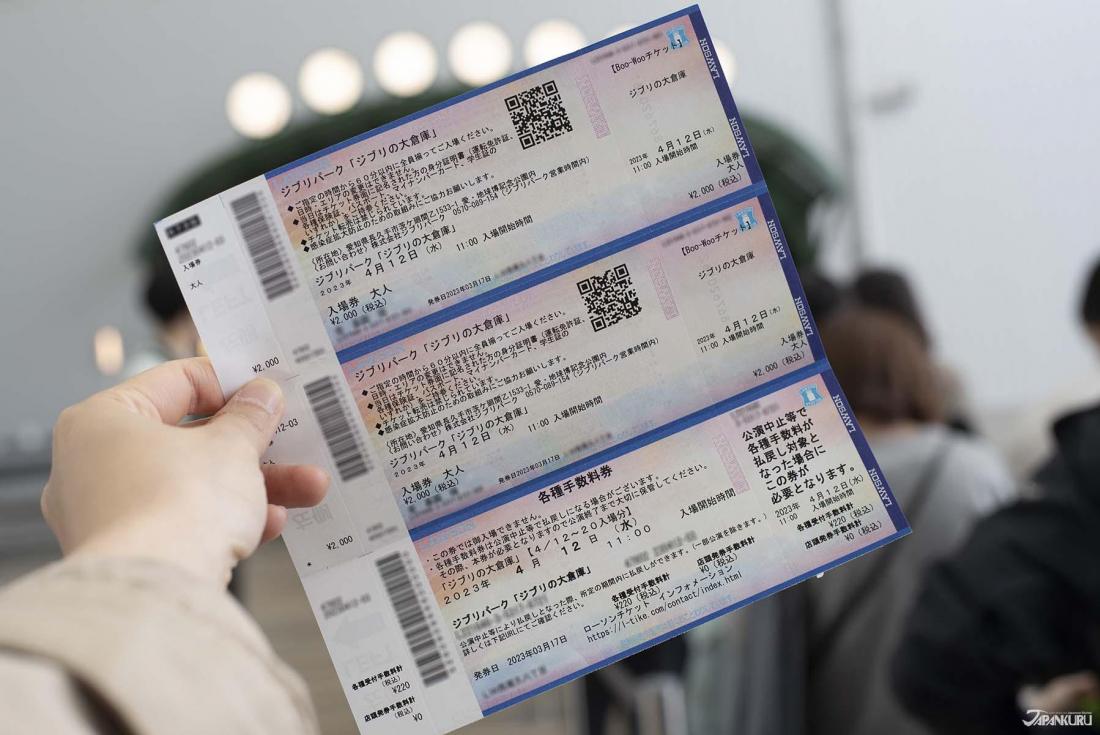 Unfortunately, getting tickets for the Ghibli Park can be a bit of a hurdle (just like the Ghibli Museum in Tokyo), with fierce competition and limited ticket availability. Tickets now become available approximately three months ahead of time, on the 10th of each month, but early entrance times and weekend dates sell out fast, along with certain areas. Ghibli Park has a unique setup, spread out in sections all around the Expo 2005 Aichi Commemorative Park, and although three areas are open now, two of them (the Hill of Youth and Dondoko Forest) are still only reserved for ticket purchasers in Japan – and they sell out fast, even on weekdays. By the time the Japankuru team got around to buying tickets, unfortunately only a month ahead of time, we could only get tickets to the third Ghibli Park area: the Grand Warehouse. As it turns out, that was more than enough to fill the day. Overseas ticket purchasers who only have access to the Grand Warehouse still get plenty to enjoy!
▷ Tickets reservations from within Japan.
▷ Tickets reservations from overseas.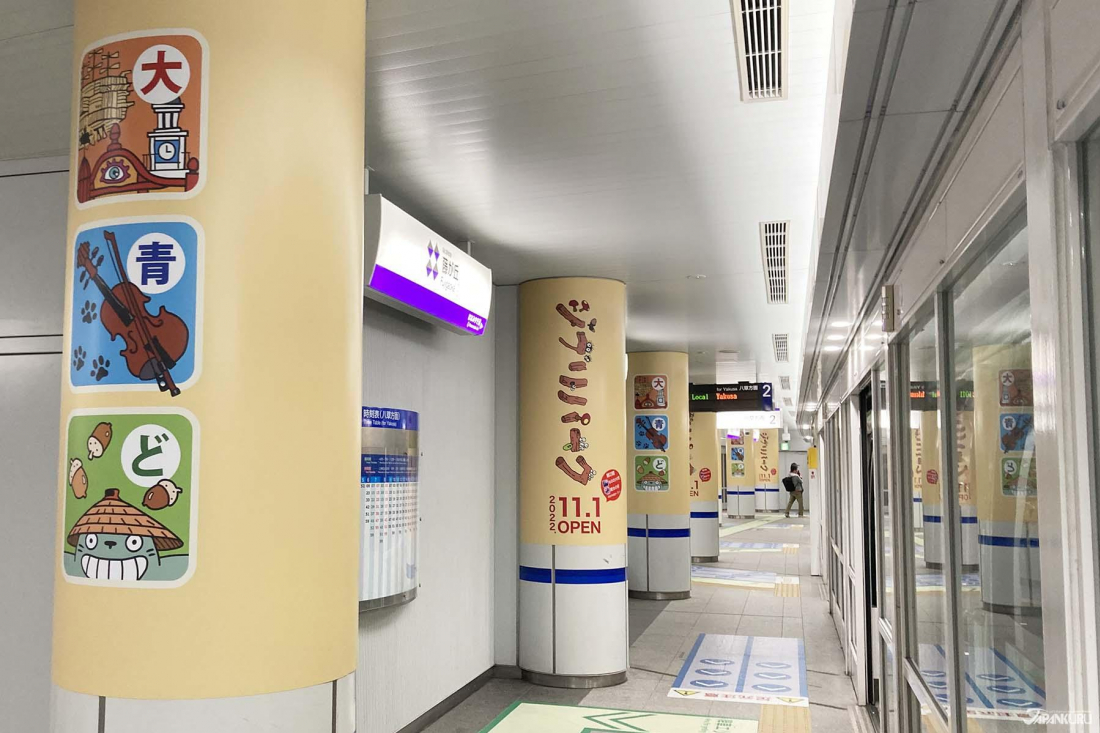 When the day finally arrived and we made our way to Ghibli Park all the way from Tokyo, we were surprised at how easy it was to get to the park. It's just a couple easy train transfers!
① Tokyo Station to Nagoya Station via the shinkansen (bullet train)
② Nagoya Station to Fujigaoka Station via the Higashiyama subway line
③ Fujigaoka Station to Ai-Chikyuhaku-Kinen-Koen Station via the Linimo maglev train
Shinkansen going from Tokyo to Nagoya leave multiple times an hour every hour, and you can easily hop on many of them using the JR Pass, but if you're planning on heading over early in the morning we recommend reserving a seat in advance. Tokyo to Nagoya is a surprisingly common morning commute! Our timed entrance tickets for the Grand Warehouse allowed us in at 11:00, so we chose a train that arrived in Nagoya around 9:30. The least obvious part of the trip came next, since signs for the Higashiyama subway line at Nagoya Station are a little lacking, but with the help of a friendly station employee we found our way to the outside entrance. The final transfer to the Linimo line was extremely simple, with ample signage, and lots of other passengers making the same transfer. In the blink of an eye, we were exiting the station directly into the park, on our way to the "warehouse."
Entering Ghibli Park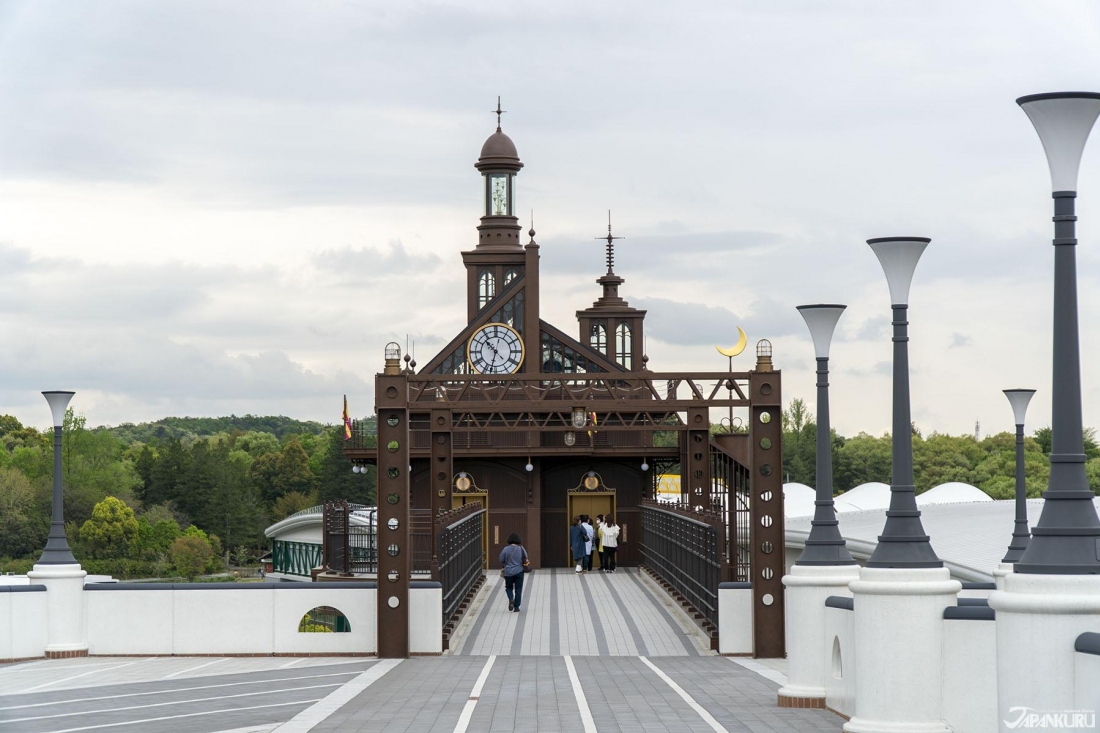 Ghibli Park is just a portion of the Expo 2005 Aichi Commemorative Park, but because of the way its spread out, you already get a glimpse of Ghibli as soon as you arrive at the park gates. Like a steampunk dream, the Elevator Tower is a sure sign that this is no average park, with its fairytale architecture apparently inspired by the structures found in both Howl's Moving Castle and Castle in the Sky. The tower is technically a part of the Hill of Youth – the area closest to the entrance – but the elevators inside are used to take everyone down to the main park space below. From there, the Grand Warehouse is just a couple minutes' walk. Line up, get your ticket checked, pick up your Cinema Orion movie ticket on the way in, and you're ready to explore!
Minami-machi ・ Children's Town ・ Cat Bus Room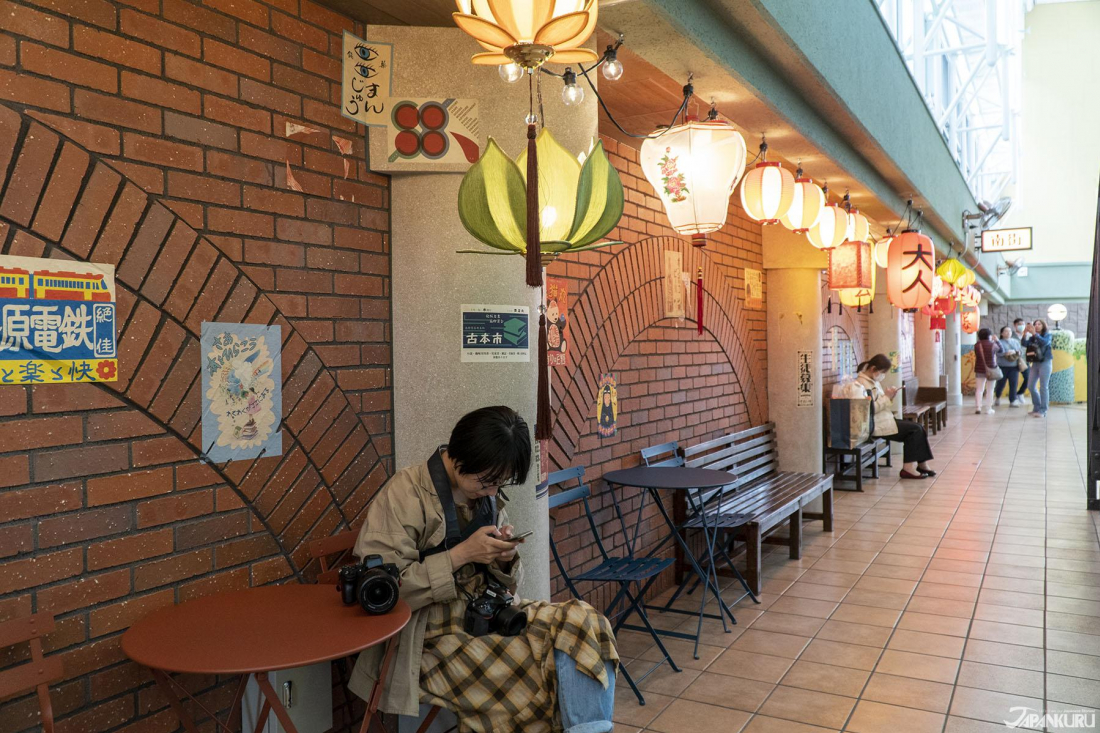 The first "attraction" you see when you enter the Grand Warehouse is the Becoming Characters in Memorable Ghibli Scenes exhibition, but we decided to save that for later, and explore deeper into the warehouse first instead. First stop: Minami-machi, which is made up to look like a little alley like you might find in any Japanese town, except with its own retro Ghibli spin. The shops sell Ghibli books, modeling kits, and old-fashioned Japanese sweets, and the walls are hung with posters straight from a movie background. Stop by for a taste of Showa-era Japan (1926-1989) in the form of some classic snacks, and plenty of good photo spots.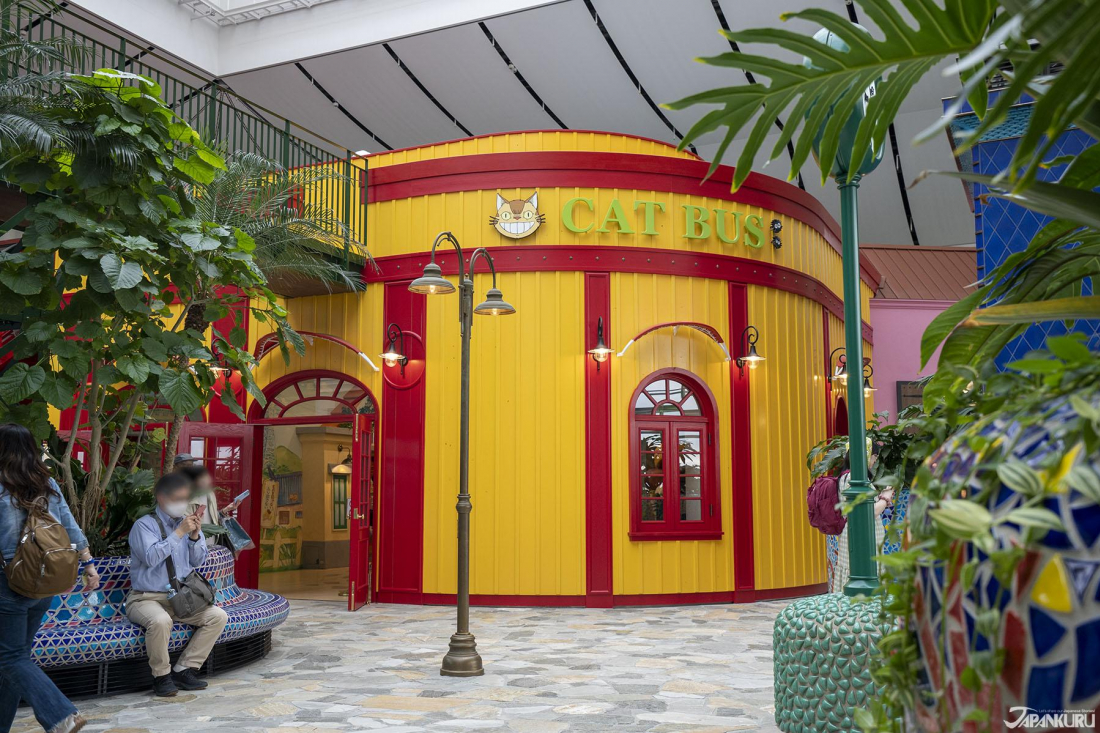 Then turn into Children's Town and the Cat Bus Room, both of which are no-photo zones (and mostly for children). Kids get to climb on top of a cute patchwork catbus the size of a golf cart, and explore a little cityscape made to scale for their short statures. Adults aren't allowed into every part of this area, but it's worth taking a look no matter your age – we liked the cozy plush-covered Totoro enclave!
Garden in the Sky ・ The House Below ・ Director's Room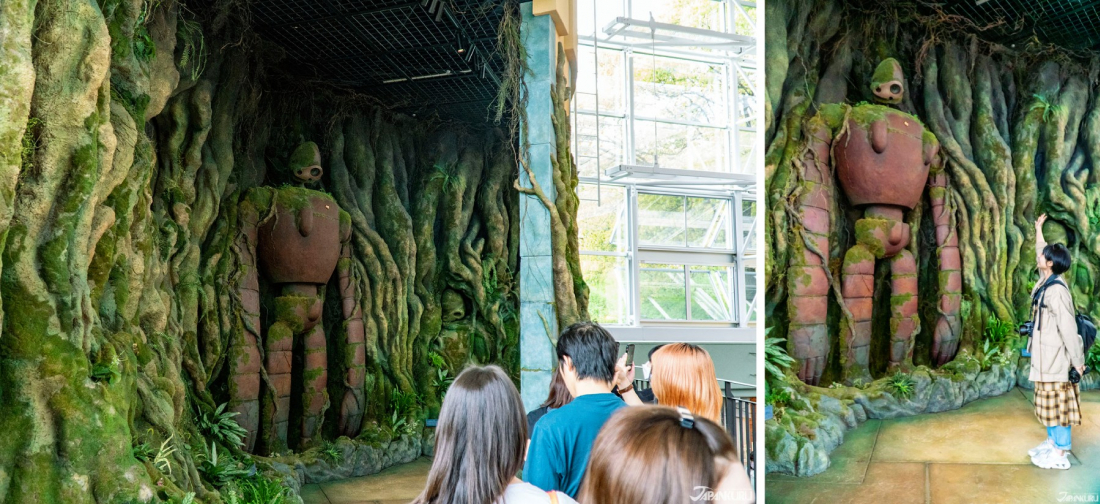 Continuing on from one end of Children's Town, we slipped around the back corner and over to the Garden in the Sky, a small nook carved into the corner of the warehouse. Here, a three-dimensional mural takes the form of one of the iconic robots from Castle in the Sky, nestled into Laputa's vine-covered walls. We quickly lined up to take some pictures with our new robot friend!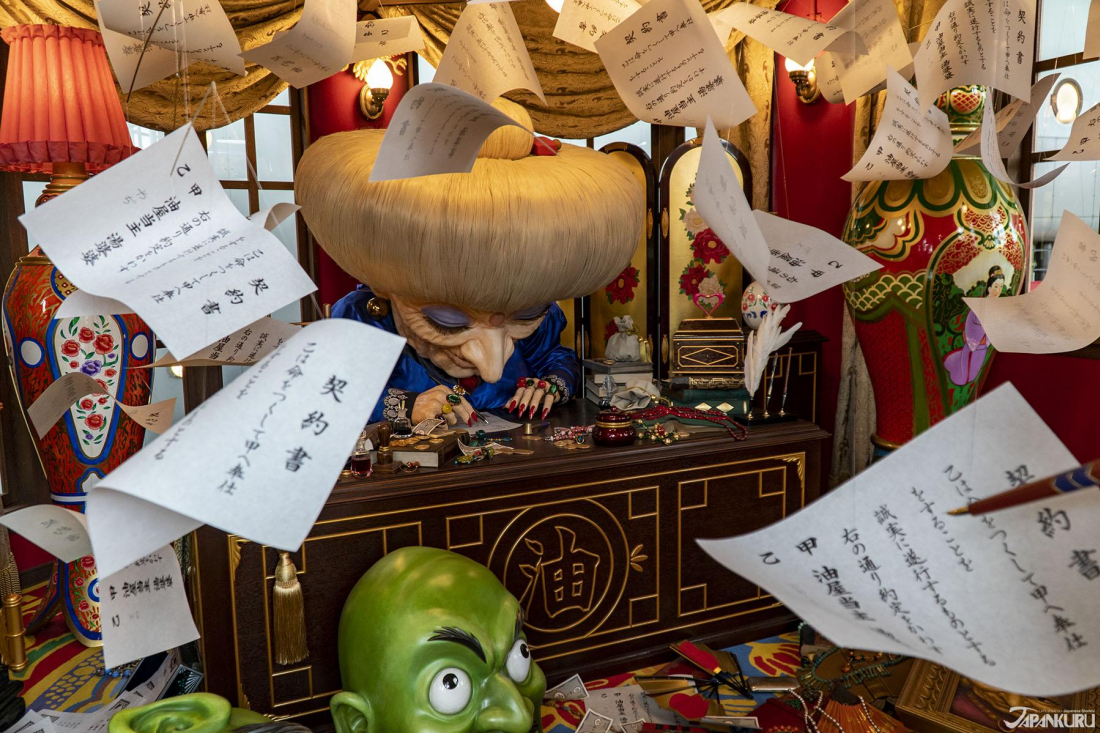 A little further down the wall, we also ran into the Director's Room, which surprisingly had nothing at all to do with Ghibli's most famous film directors. Instead of Hayao Miyazaki or the late great Isao Takahata, this office belonged to Yubaba, and on the inside was a diorama from the scene where this bathhouse "director" agreed to take on Chihiro as bathhouse staff. We quickly snapped some pictures of the inside, with all the contract papers suspended in mid-air, before heading back past the robot and down the stairs into "The House Below."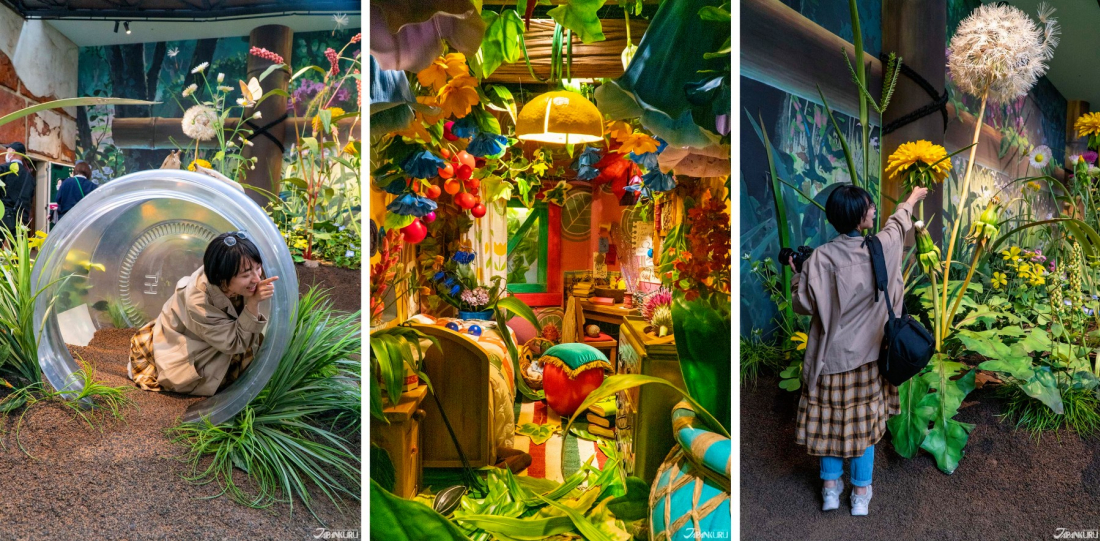 Walking into Arietty's garden was a little like walking into wonderland, shrinking a few sizes too small as all the plants began to tower overhead. After climbing into some human-sized jars for some pictures and gazing up at dandelions twice the size of each of our heads, we took a peek at some of the Borrowers' rooms, including Arietty's own room, little pencil nubbins, giant thumbtacks and all!
It soon became clear that the Grand Warehouse was nothing if not a place for photos, making it notably different from the Ghibli Museum in Tokyo (where photography is off-limits in most of the facility).
Delicious! Animating Memorable Meals Exhibition ・Everything Ghibli! Exhibition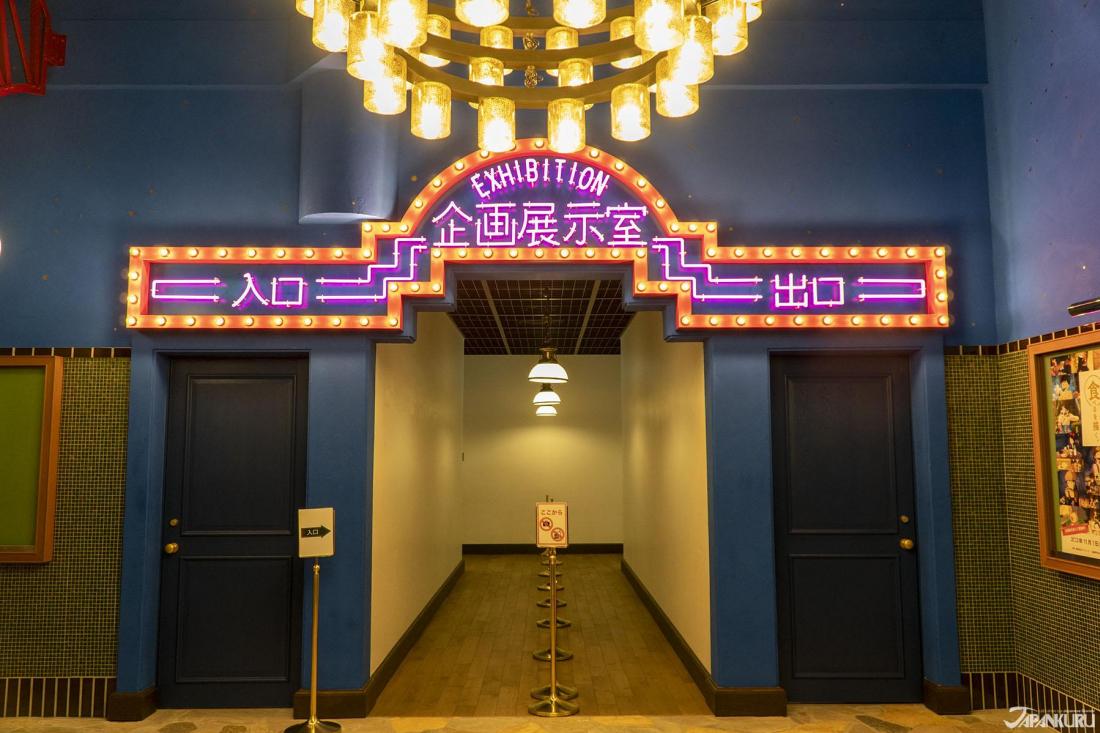 Our next stop was another no-photo zone, perhaps because the "Delicious! Animating Memorable Meals Exhibition" was originally displayed at the Tokyo Ghibli Museum. But it's new revived form would be worth a visit even if you had already seen the exhibit in Tokyo. The walls are plastered with concept sketches and original animation cells from some of the most iconic meals in all of Studio Ghibli's films, from the irresistible rice balls that Haku feeds Chihiro in Spirited Away, to the sweet and simple red bean and cake sandwiches nibbled on in The Wind Rises. (More on those later!) Plus, in addition to all that, the later rooms house a series of life-size three-dimensional replicas of kitchens and restaurants from the movies. You can't take pictures here, but if you've ever wondered how you might react if it were YOU facing the tempting street food feast for the gods that turned Chihiro's parents into pigs, this is the place to find out. (Although the smell isn't quite so tantalizing when the food is made of plastic.)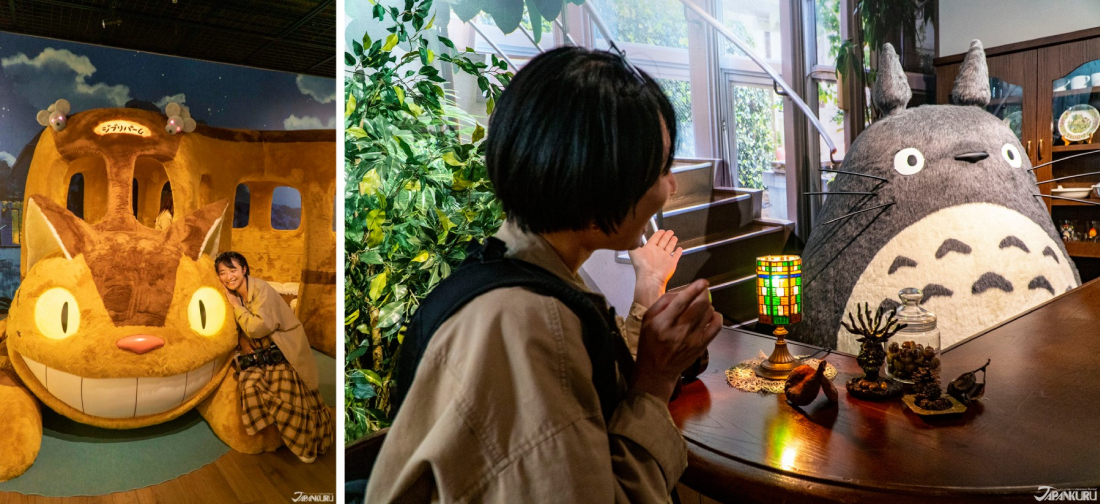 The second half of the exhibition area (the Everything Ghibli Exhibition) is photography-friendly, and it shows. After a few rooms filled with Ghibli movie posters and more from around the world, showing off the international appeal of these beloved movies, a series of new photo spots present themselves one after another: a giant (life-size?) catbus big enough for adults to sit inside and take pictures with, comfy Totoro and catbus armchairs, and even a "Totoro Bar" with the fluffy forest spirit himself standing behind the counter. If you still haven't taken some great pictures at Ghibli Park by this point, it's worth asking: what have you been doing?
Cinema Orion ・ Open Warehouse ・ Becoming Characters in Memorable Ghibli Scenes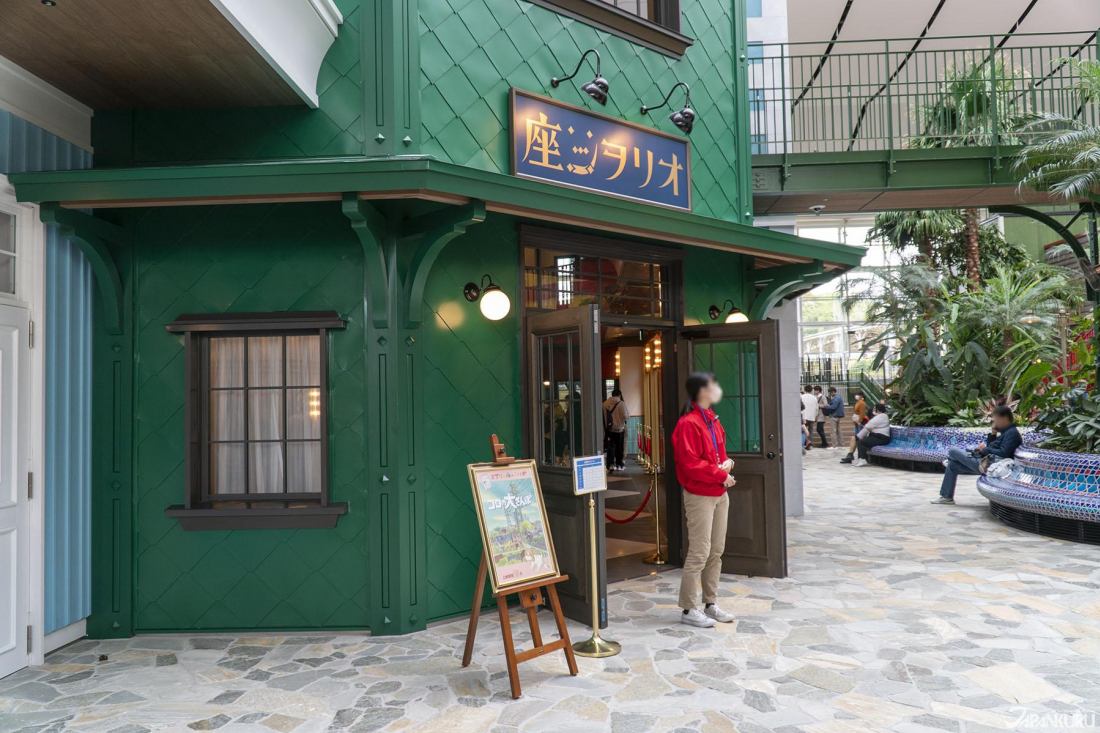 The exhibition exit let us out just down the hall from the ultra-popular Becoming Characters in Memorable Ghibli Scenes exhibition, but the long line scared us off and we thought "maybe the line will get a little shorter later in the afternoon?" (We were, in fact, wrong.) Instead we went up the grand staircase, admiring the mosaics as we went, and walked right into the packed Cinema Orion just before the next film showing began. For better of for worse, the short films shown at Ghibli Park are the same ones you can catch at the Ghibli Museum in Tokyo. (Both theaters rotate through the catalog periodically, changing films about once a month.) This means there aren't currently any short films that can only be seen at Ghibli Park, but it also means that if there was a short film you wanted to see at the museum, you might be able to catch it here instead. During the Japankuru visit, the short film playing was Koro's Big Day Out (コロの大散歩), a heartwarming romp starring an animated puppy and real puppy voice actors! (Sadly for this Japankuru writer, it happened to be the same short film playing during a past visit to the Ghibli Museum.)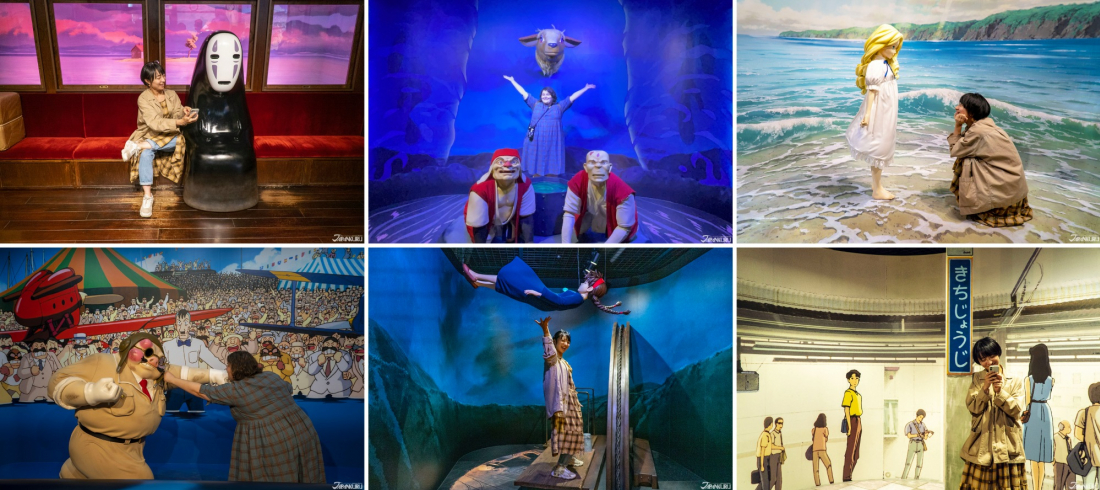 After a relaxing theater experience, we headed right back downstairs, took a loop through the Open Warehouse (an actual storage space for old Ghibli exhibition pieces) before – finally – lining up for our turn in the Becoming Characters in Memorable Ghibli Scenes exhibition. This series of rooms delivers exactly what the name promises: Ghibli film sets, straight from the animations, brought to life but missing key characters – that's where you come in. Pose in iconic scenes from Spirited Away, Ponyo, and Princess Mononoke, or take the place of characters in some of Ghibli's less wildly famous titles, like The Wind Rises or Ocean Waves (ever heard of that one?)! The Japankuru team particularly enjoyed pretending to be Pazu and catching Sheeta from the air, just like the movie poster for Castle in the Sky. And despite the long line to get in, this exhibition isn't too overcrowded inside, so you can take pictures at every single movie scene if you really want to!
Siberi❆An Milk Stand ・ Transcontinental Flight Café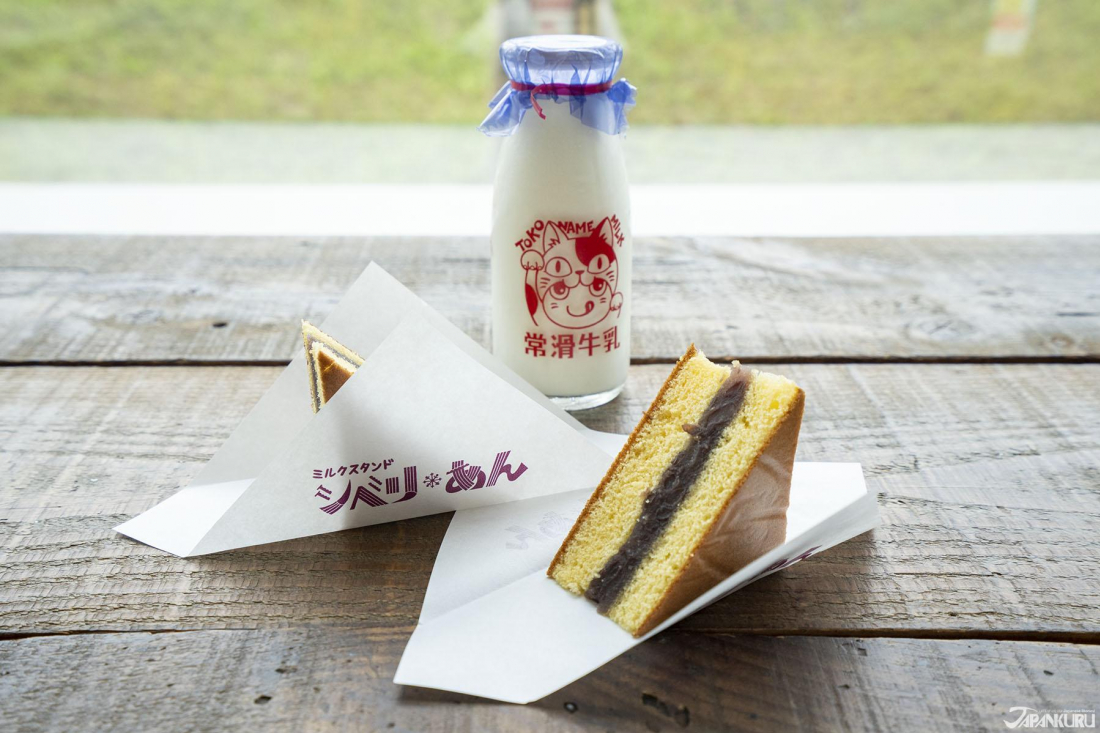 With all the main attractions photographed till our fingers ached, we realized there was one rather important thing that we had forgotten to do all day at the Ghibli Park, being so deeply distracted by all the excitement in every direction. We had forgotten to eat lunch. And at this point, our stomachs were starting to protest. But we decided to keep going a little out of order, and go for dessert first, making a beeline to the park's little sweets shop inspired by The Wind Rises. Milk Stand Siberi❆An has a very limited menu, since it's main focus is "Siberia" cake sandwiches filled with red bean, which come filled with a choice of chunky or smooth red bean jam (anko/餡子). The obvious drink pairing is milk, served in retro Japanese milk bottles labeled with Ghibli Park's original cat princess logo, but you can opt for a juice box or tea instead. The sweet little cakes were the perfect pick-me-up after a day scrambling around and around the Grand Warehouse, although we wouldn't necessarily recommend waiting until you're starving to gobble the sandwiches down in seconds.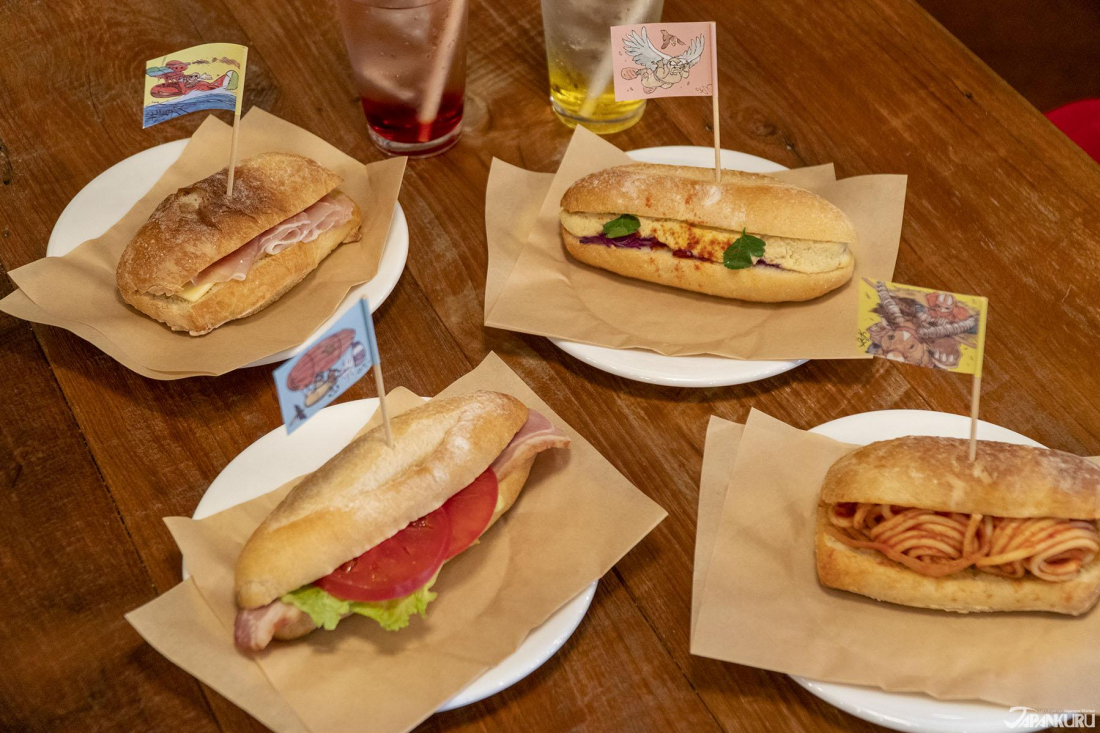 It was late afternoon by the time we got to the Transcontinental Flight Cafe – the main eatery in the Ghibli Park Grand Warehouse. With things winding down for the day, there were only one or two tables taken, but the large dining space with plentiful seating looked like it wouldn't be hard to find a place to eat even during more reasonable lunch hours. Unfortunately, some of the more unique options were already sold out (like their Nagoya-style miso katsu pizza!), but a selection of sandwiches were available all the way until last order (4:30 pm), so even latecomers had options to choose from. The food at the Transcontinental Flight Cafe isn't particularly cheap for the portion sizes, but it's not nearly as overpriced as many themepark meals can get, and more importantly, it was pretty good! The prosciutto ham and cheese or the BLT are great options for anyone looking for a simple, reliable sandwich, and the hummus sandwich actually has some of the best hummus we've had in Japan – great for vegetarians. Adventurous eaters looking for the kind of sandwich you won't find outside Japan might want to try the ketchup spaghetti (Napolitan) sandwich, which is literally a roll filled with sweet spaghetti.
Adventurous Flying Squadron Gift Shop ・ Rotunda Kazegaoka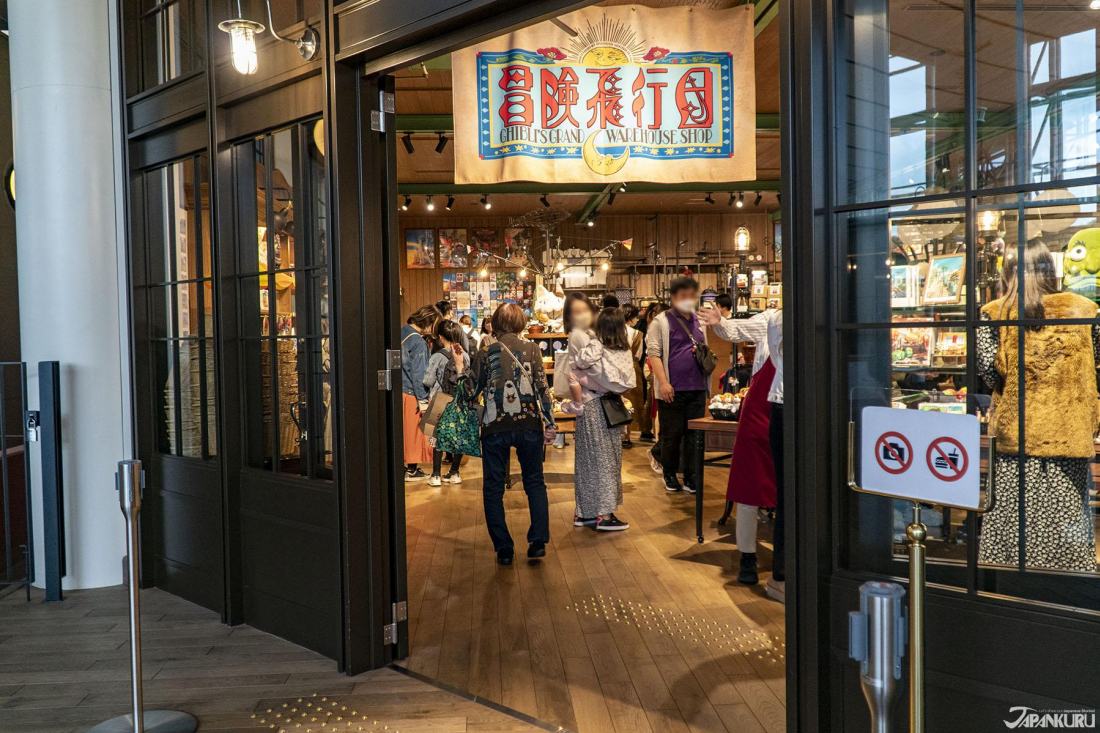 The last stop for the Japankuru team before leaving Ghibli's Grand Warehouse was the Adventurous Flying Squadron Gift Shop, and you better believe we were excited to buy some souvenirs. The store is absolutely packed with Ghibli-themed items of all kinds, and also with quite a few other shoppers, so making your way through the crowds can be a little hectic, but it's worth the struggle. There are Ghibli Park t-shirts, accessories embroidered with little Ponyos, stuffed patchwork catbus toys of all sizes, high-end jewelry and porcelain themed after designs from Castle in the Sky or My Neighbor Totoro, cookies in beautifully decorated tins, plus endless stickers, enamel pins, postcards, and tons more. It's an overwhelming way to end a trip to the Ghibli Park Grand Warehouse, and it sure is hard to keep to a budget!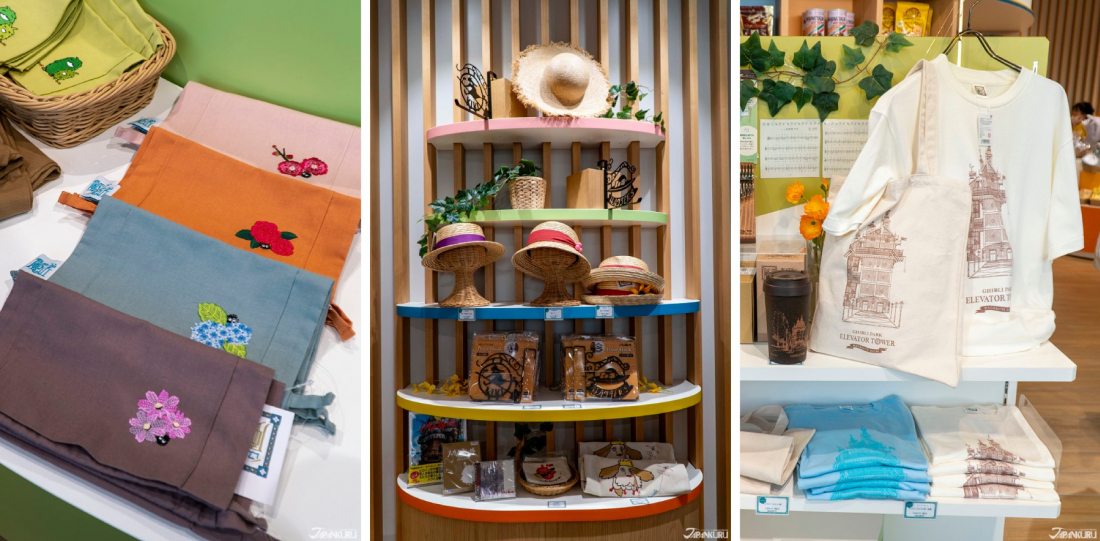 After finally making our way through the check-out line and out the Grand Warehouse exit for good, we actually stopped at one more destination on our way back to the train, called the Rotunda Kazegaoka. This Ghibli Park gift shop is right across from the station, and it's not inside of any of the roped off Ghibli Park areas, which means you can actually check it out without any entrance tickets. Inside, offerings include general Expo 2005 Aichi Commemorative Park merchandise and an interesting selection of imported snacks, alongside a selection of Ghibli products. Despite the smaller selection, the intriguing items at the Rotunda Kazegaoka really called out to the Japankuru team – we were totally taken by the simple embroidered t-shirts featuring flowers and little soot spirits, along with the line of Ghibli hats made to look like those worn by Ghibli characters. It was very hard to convince ourselves that we didn't really need to buy a straw hats on a rainy spring day, even if they did look like those worn by Sophie from Howl's Moving Castle and May from Totoro, but we did manage to tear ourselves away in the end, and we got back on the train, all the way to Tokyo.
Ghibli's Grand Warehouse vs. the Ghibli Museum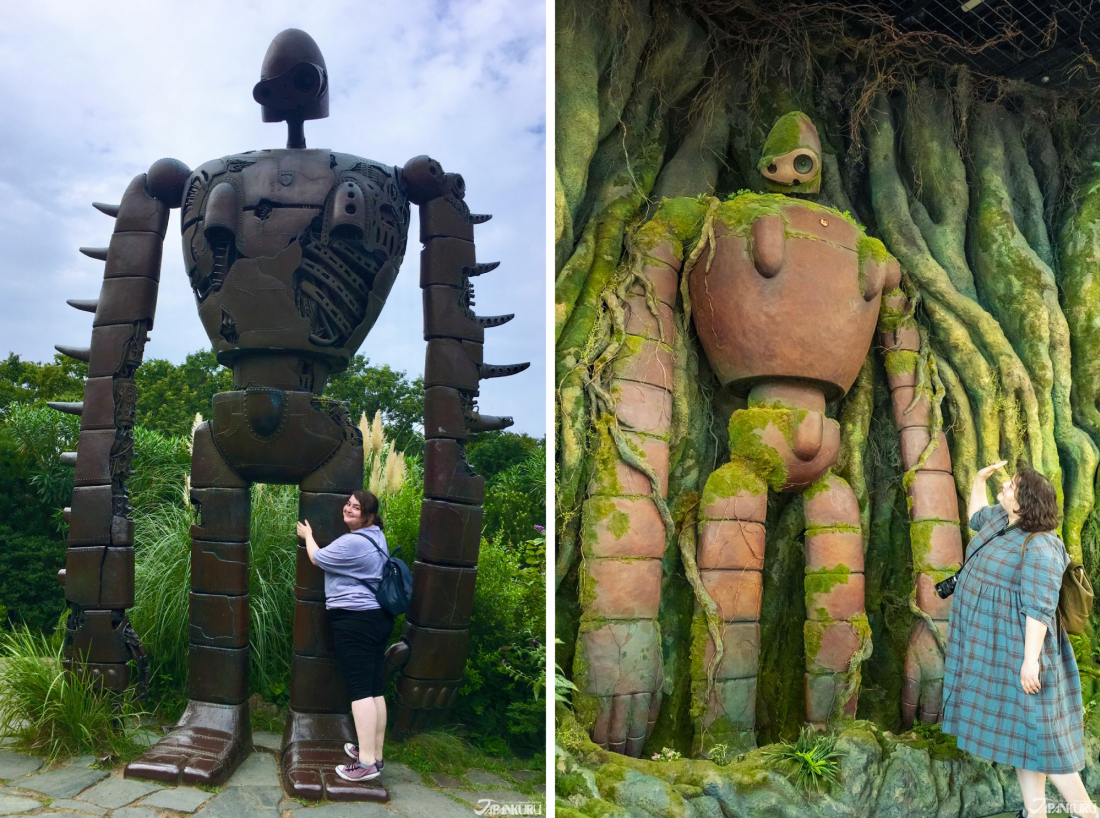 Both are magical spaces, filled with unique exhibitions on Studio Ghibli's animations, with theaters and catbuses and gift shops full of temptations, so what's the difference between Tokyo's Ghibli Museum and the Nagoya's Ghibli Park Grand Warehouse? Is it worth traveling all the way to central Japan to see Ghibli Park? It's a question worth asking, since the museum is conveniently located in a western Tokyo suburb, whereas the park is about three hours from Tokyo via shinkansen. But the answer is one you will have to come to yourself. There are a couple factors to consider:
① Size: The Ghibli Museum is one standalone building in a Tokyo park, which means it's just not that big. They do a great job of packing in lots to see at the cozy museum, and every space is lovingly curated, but the Grand Warehouse takes up half a former convention center, so there are a lot of different unique areas spread out in all directions. If going somewhere big and impactful is a priority, Ghibli Park is the winner, and that's not even mentioning the OTHER areas of the park that you can buy separate tickets for.
② Content: Ghibli Park is all about taking pictures, and the Ghibli Museum is about experiencing everything Studio Ghibli for yourself. The Grand Warehouse is full of amazing spots to insert yourself into your favorite scene and capture the memory on film, but photography is totally forbidden throughout most of the Ghibli Museum – instead, there are rooms focused on the fun of animation, recreations of real Studio Ghibli desks and offices, and rotating thematic exhibitions.
Do you want to go to a museum, or a theme park? That's probably the best way to decide which to see first!
The Perfect Ghibli Park Route & Some Thoughts for Next Time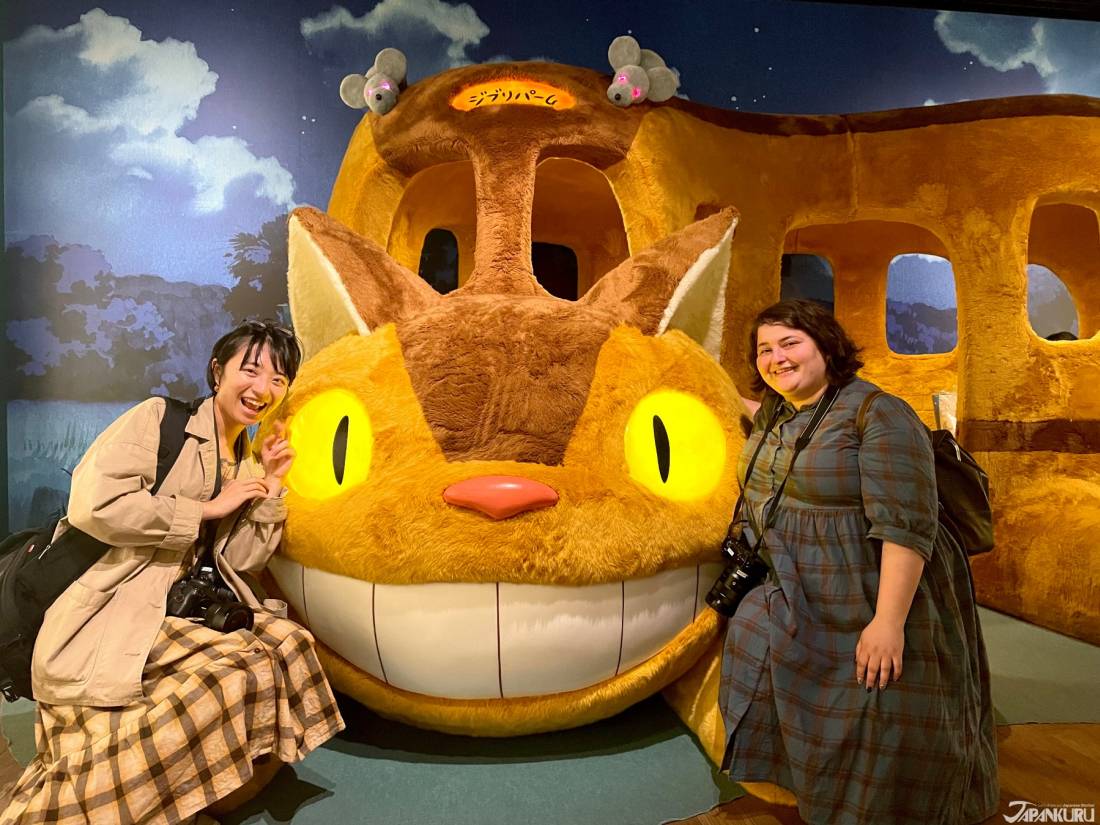 If you glanced at the map for Ghibli's Grand Warehouse while following along with our adventures at Ghibli Park then you might have noticed, but we did not plan our route to be particularly efficient. Mostly, we went straight to whatever caught our eye next, and that meant crisscrossing the space over and over, taking different routes and seeing everything from a million different angles. Fortunately, it turns out that that's not a bad way to do things at Ghibli Park! There are a lot of strictly scheduled guides to Ghibli's Grand Warehouse, but if you're spending the whole day there (like many visitors are), we think following your heart and doing a little bit of wandering is a great option – it means you'll catch all the amazing detail that Studio Ghibli put into the spaces.
So once you get inside, where should you go first? Well, anywhere is probably fine, and just heading straight to the spot you want to see most is as valid a choice as any! The line for the Becoming Characters in Memorable Ghibli Scenes exhibition is fairly quick, but it gets longer throughout the day, so it's not a bad choice to head there as soon as you go in. If you want your choice of sandwiches and pizza toppings at the cafe, we'd definitely recommend going earlier rather than later. You can even go there for lunch as soon as you enter the park, and strategize where you want to go next! Just remember to bring a mobile battery to keep your phone charged as you snap the day away, and you'll have a great time enjoying this amazing Studio Ghibli destination!
For more info and updates from Japan, check Japankuru for new articles, and don't forget to follow us on Twitter, Instagram, and Facebook!