Visiting Hanshin Koshien Stadium ・ A Day of Japanese Baseball History and Ballpark Tours
This famous Japanese baseball stadium is hallowed ground for Japan's baseball fans, so it's a must-see for Hanshin Tigers supporters, high school baseball lovers, and casual sightseers alike!
What Is Koshien?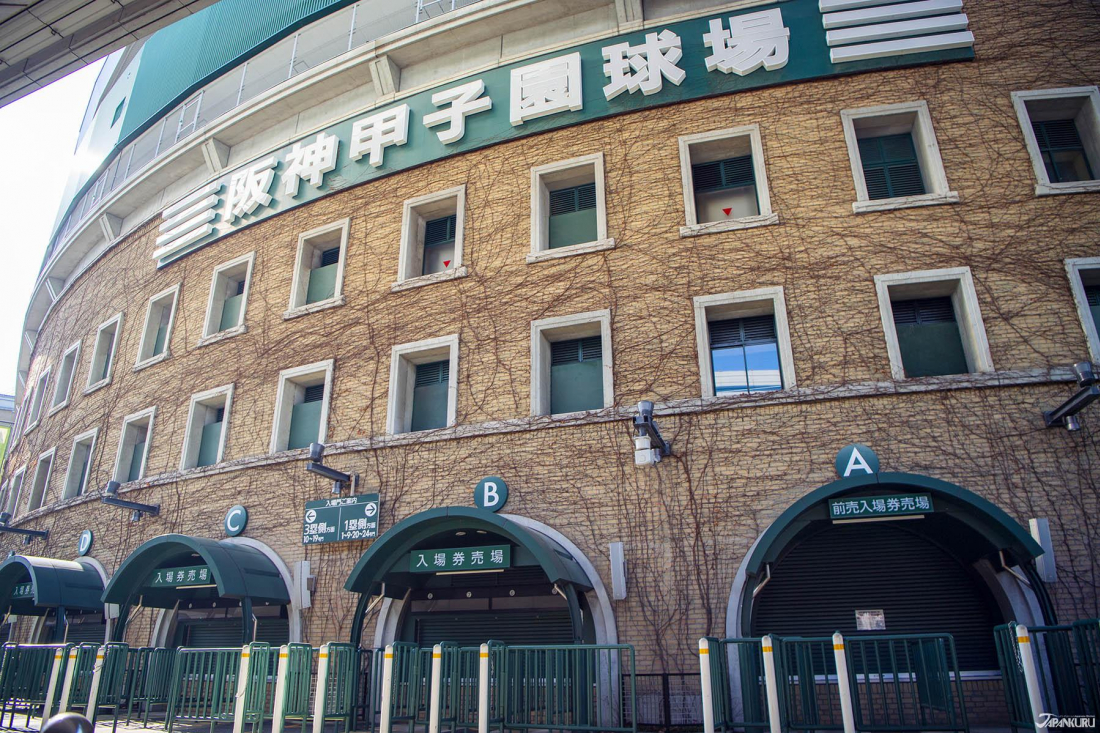 Officially known as Hanshin Koshien Stadium, "Koshien" (甲子園) was the original name, and is still the common moniker, for Japan's oldest and most beloved baseball stadium, constructed in 1924. The ballpark was originally built as a stadium for high school baseball, which has long been a much bigger phenomenon in Japan than in other parts of the world. To this day, Koshien is the site of multiple high school baseball tournaments every year―massive events that draw packed crowds and get broadcast in full on national TV. This baseball diamond and those baseball leagues are so closely connected that in conversation, the name Koshien can still refer to both the place and the competitions.
But the stadium eventually changed from "Koshien" to "Hanshin Koshien" after it took on a second major role in 1948, as the official stadium for the local Nippon Professional Baseball team, called the Hanshin Tigers. Koshien is now also a gathering place for fans of one of the oldest and most popular professional baseball teams in Japan, who call the ballpark home. Between high school baseball and a pro home team, Koshien has years of venerable baseball history, making it Japan's #1 baseball destination.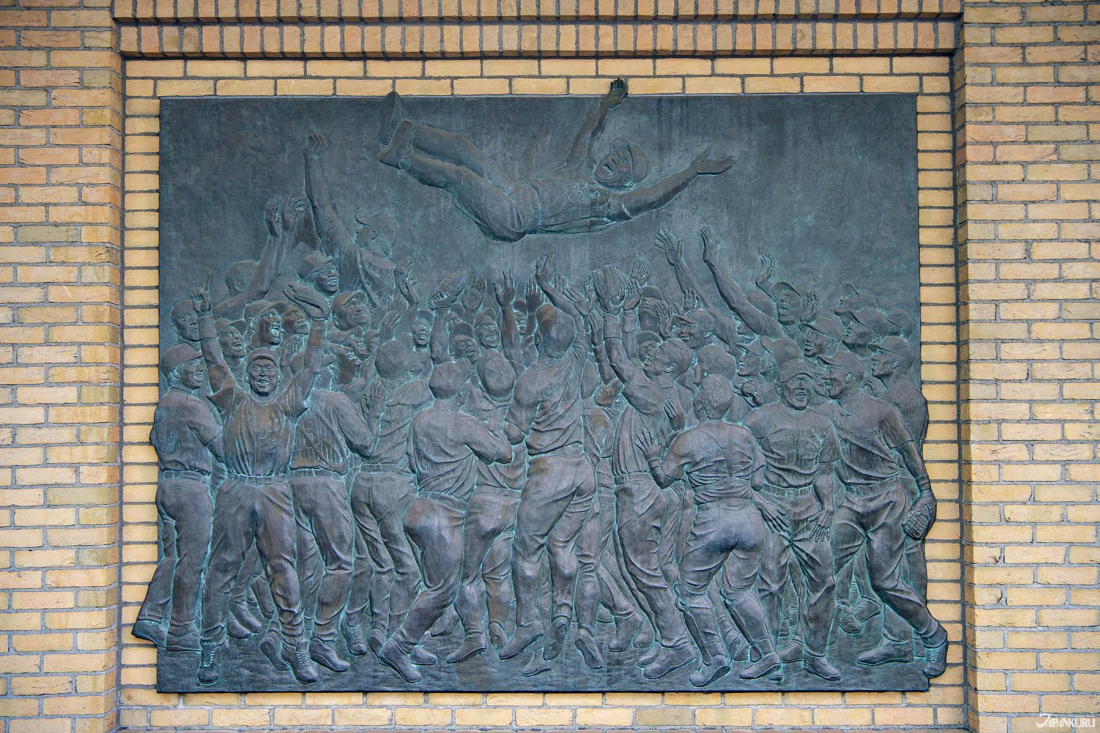 While Koshien might be a blast on game days, and you won't go wrong watching a baseball game there, it turns out it's a pretty entertaining place to visit on any day of the week, for baseball fans and history buffs alike! Ballgames, famous ballpark snacks, stadium tours, and a history museum―there are a lot of fun ways to spend a day at Koshien.

Hanshin Koshien Stadium (阪神甲子園球場)
1-82 Koshiencho, Nishinomiya, Hyogo
Official Website (en)
Getting to Koshien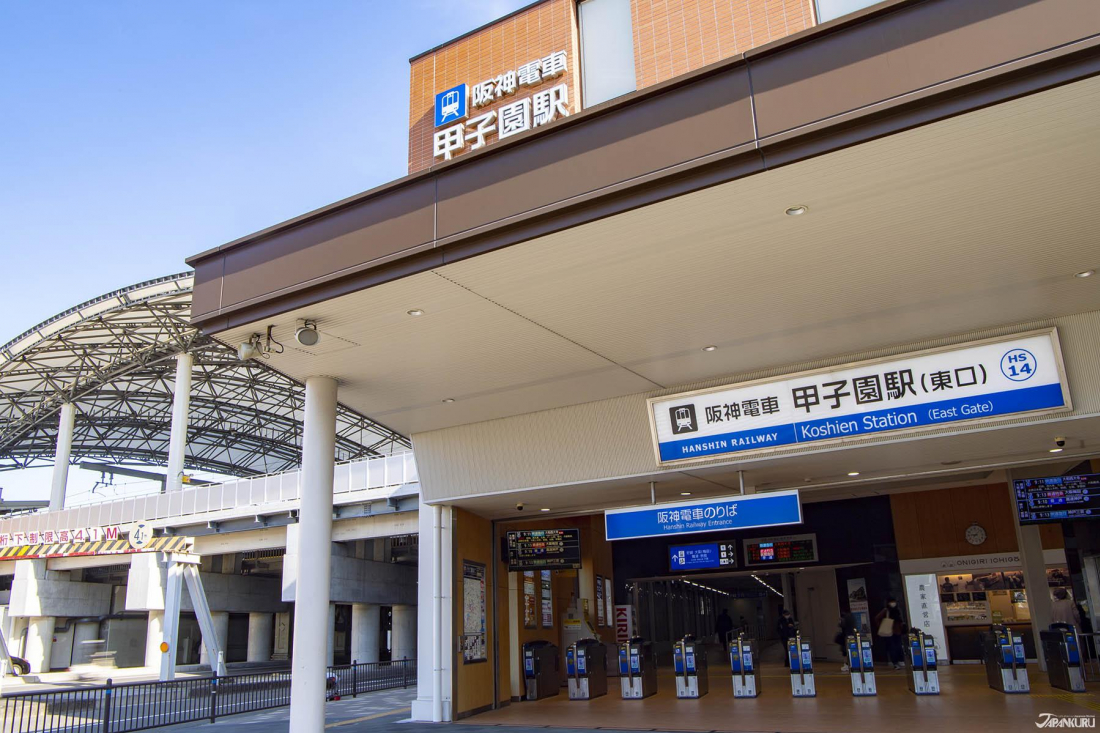 Koshien is located between the two big cities of Osaka and Kobe, and it's equally convenient from either one, with both rides coming in at under 20 minutes. The key to a convenient trip to Koshien is to use Hanshin Railway and get off at their Koshien Station, which is basically across the street from the stadium. There are many times when we might recommend taking JR trains, but this is not one of them. The deceptively named JR Koshienguchi Station is actually a 36-minute walk from Hanshin Koshien Stadium, which would be a frustrating surprise if you're not expecting it!
But foreign travelers in Japan will be pleased to find that Hanshin Railway makes it an easy choice anyway, by offering a great discount on their Hanshin Tourist Pass. The day pass is just 500 yen for a whole day of rides on the Hanshin line that includes Osaka's major Umeda and Namba Stations, Kobe-Sannomiya Station, and of course Koshien Station. Tickets from Osaka Umeda to Koshien are about 540 yen round trip, so the 500 yen pass is already a discount, but it's an especially good deal for travelers hoping to also grab a Kobe beef dinner the same day or fit some extra sightseeing into a busy Kansai travel schedule.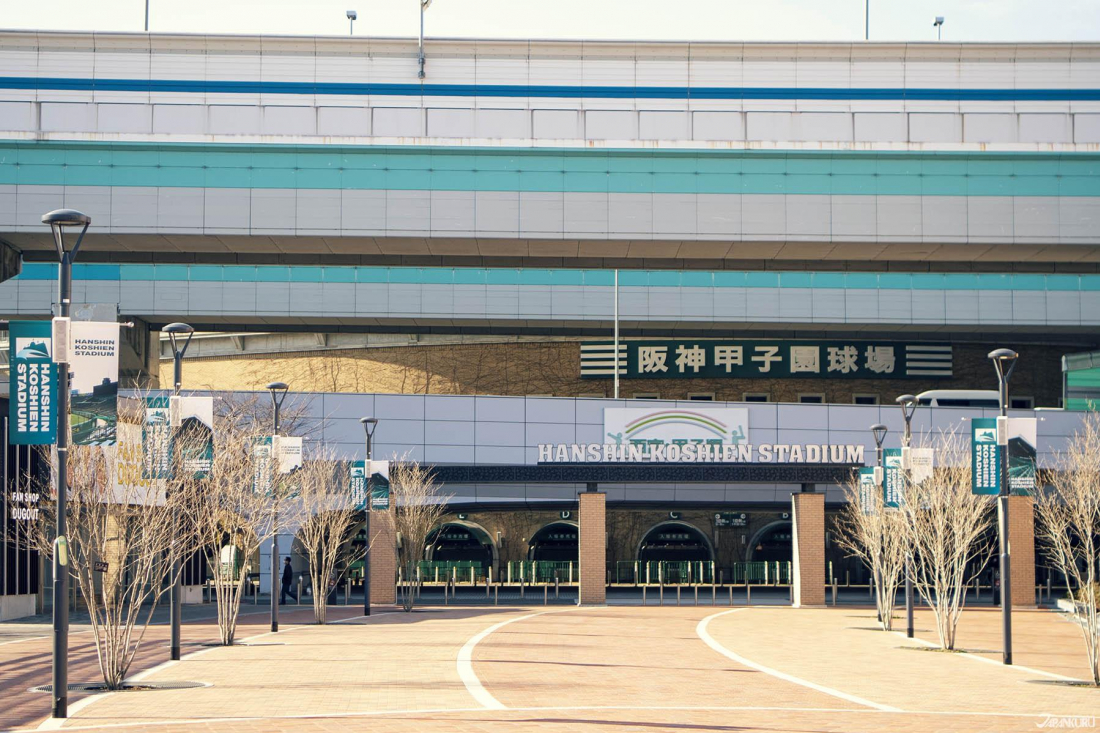 Koshien is so close to the station, you can see the stadium as you get off the train!
Hanshin Tourist Pass
Available at Kansai Airport, Umeda Station's Hankyu Tourist Center, Bic Camera Namba, etc.
Official Website (en)
Going to a Baseball Game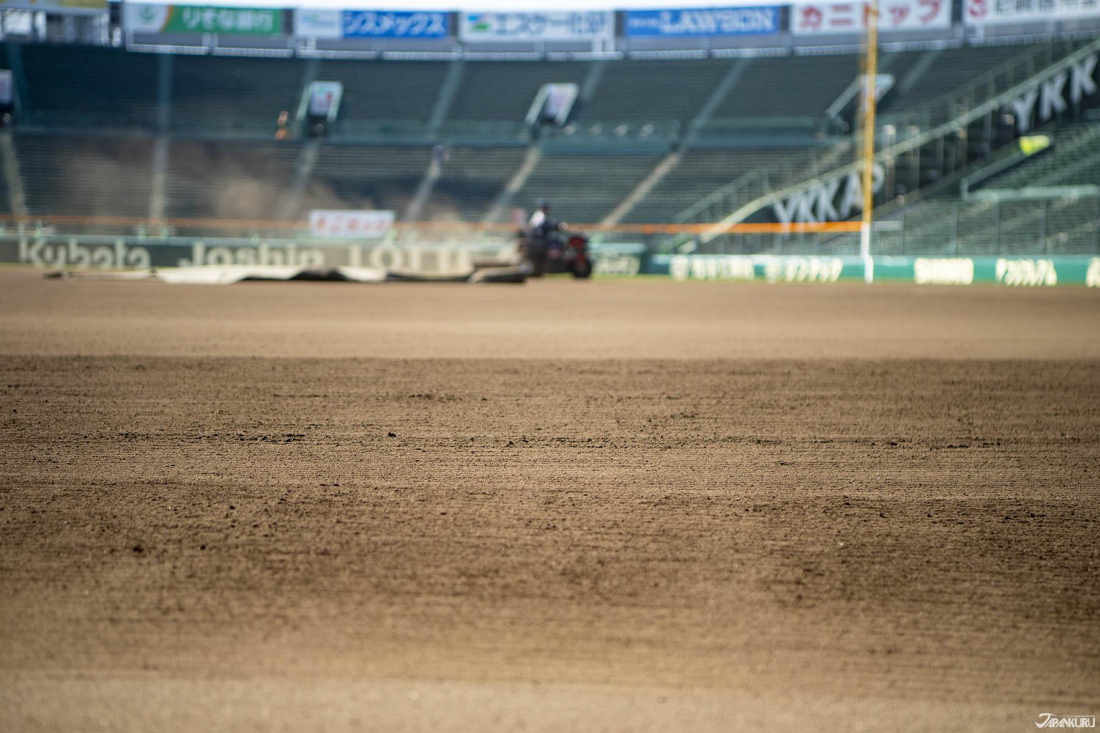 If you're hoping to go to a ballgame at Koshien, the first thing to decide is what kind of game you're hoping to watch! Do you want to snag tickets to a Hanshin Tigers home game and see the polished skills of pro baseball? Or are you hoping to catch a high school baseball game, where the raw passion for the sport is evident in each and every game?
Hanshin Tigers games are spread out through a longer season, and Koshien's website has a handy English-language guide on how to buy the tickets, so you can even buy them before you get to Japan. When you get to the stadium, all it takes is a quick scan of a QR code, and you'll get a colorful paper ticket to guide you to your seat. Will you try for "Ivy Seats," close to home base, or maybe try to get a seat behind third in the "Alps" section? Some areas of the stands have had these nicknames for decades!
From that point, watching a game is a lot like watching baseball in the US, or anywhere in the world! Japan does have some unique traditions, though, like organized groups of especially enthusiastic fans who cheer for their favorite team, and long balloons that fans shoot into the air, all in unison!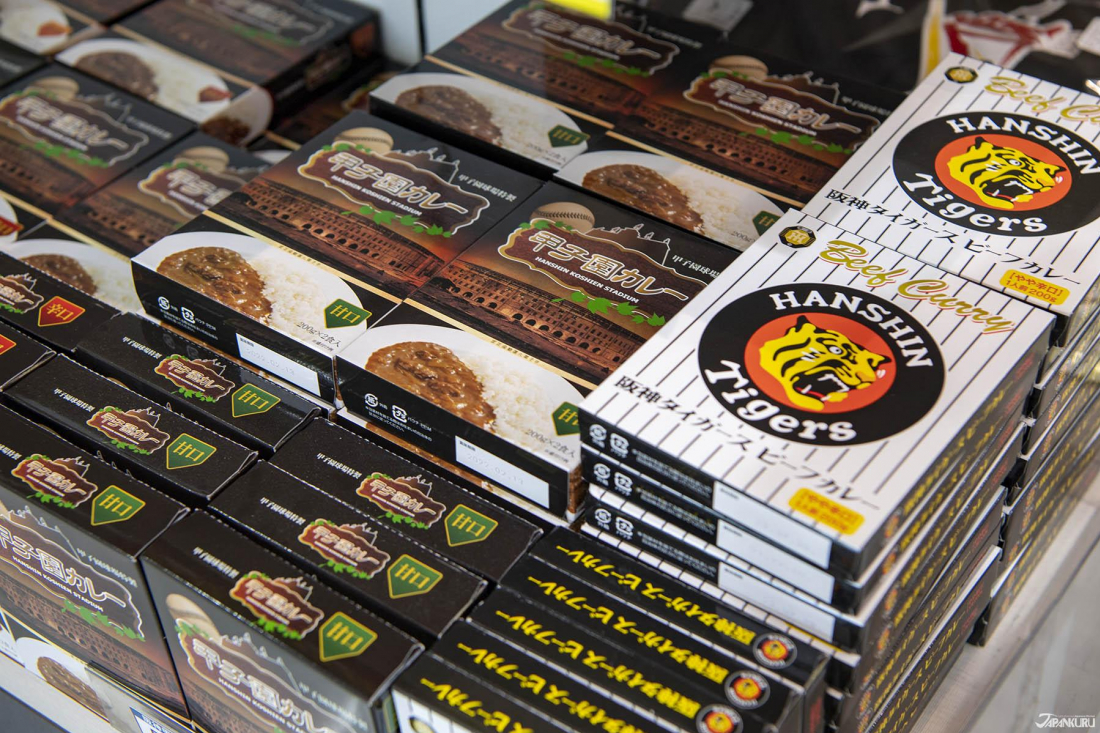 Feeling your stomach growl, and looking for the full Koshien experience? Forget peanuts and cracker jacks, Koshien has food of all kinds to fill your belly, from snacks to full meals. (They even have sushi!) There are three particular food options that the stadium is famous for: jumbo yakitori (grilled chicken), yakisoba (fried noodles), and curry! The Japanese-style curry sold at the stadium is so popular that you can even buy it pre-packaged in the gift shops (above) to take home as a souvenir, at varying levels of spiciness. In addition, Koshien sells beer to fans via beer girls who carry mini-kegs on their back, delivering the freshest possible cups of Asahi or Kirin to thirsty customers in the stands. It's known for being frosty cold, and going especially well with yakitori, yakisoba, or Koshien curry.
Japan's unique baseball traditions are sure to make for a great day at the ballpark!
Stadium Tours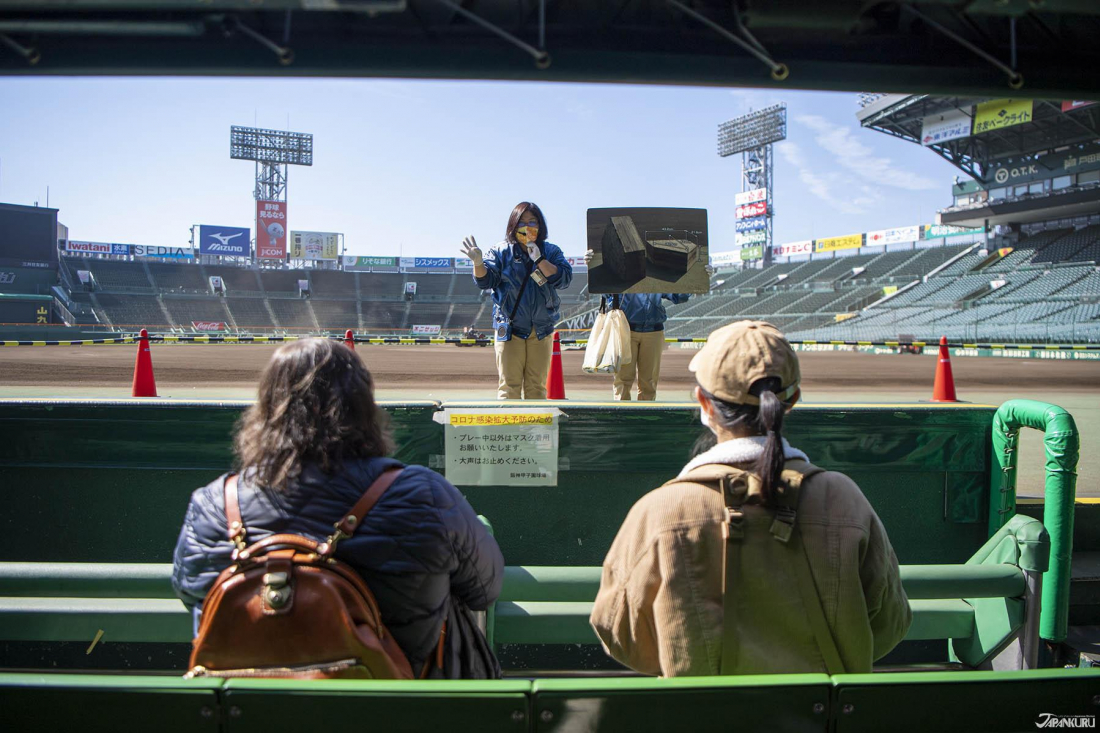 Not visiting Koshien on a game day? Or perhaps you're arriving early? Well, you can get a much deeper look at the stadium through their stadium tours! On mornings before public games, fans are taken on a course that leads to the stands, for an early look at the practice that happens before the game. Fans who visit on off-days, however, get to visit parts of Koshien that are normally reserved for staff and baseball players themselves, making it a pretty special experience!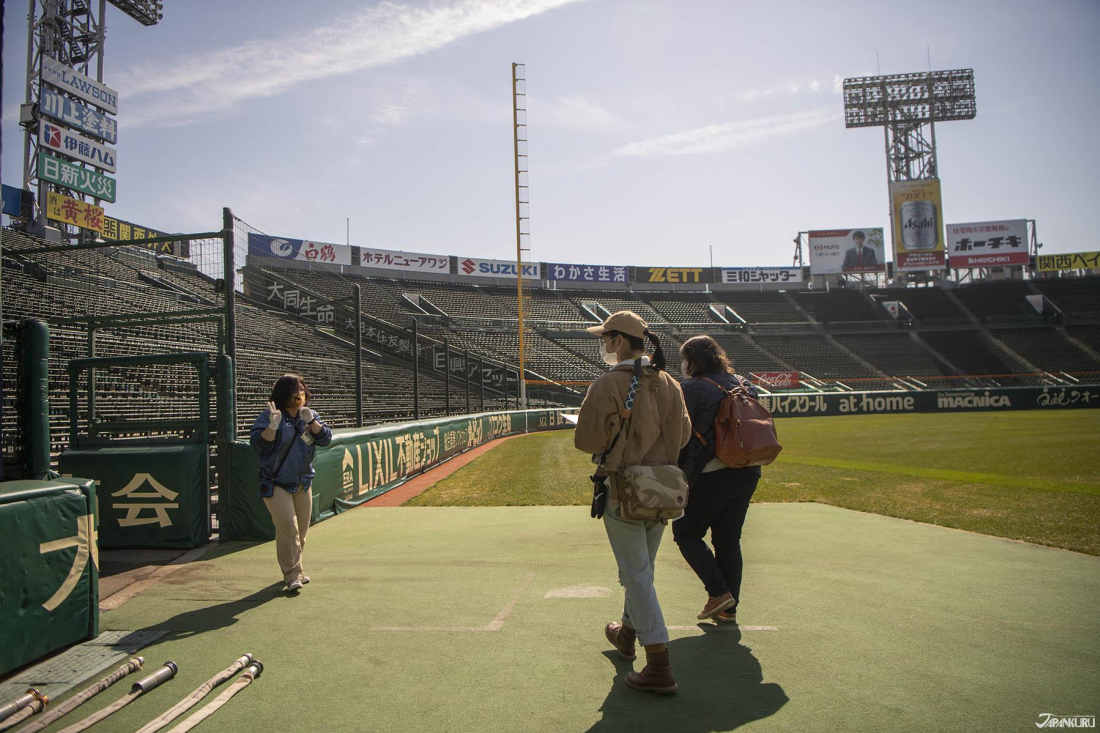 Stadium staff help to guide the tours through the facility, and while there are a handful of different routes depending on the day, each tour heads through the inner workings of the stadium and stops in spots that are normally off-limits to the baseball audience! As the tour goes along, the guides explain what each area is for, and share some pretty fascinating trivia about how parts of Koshien are used behind the scenes. Of course, this is all in Japanese, but don't worry if your Japanese isn't up to snuff! They have pamphlets in a variety of languages that explain the same information, so you can follow along with the tour in your own language.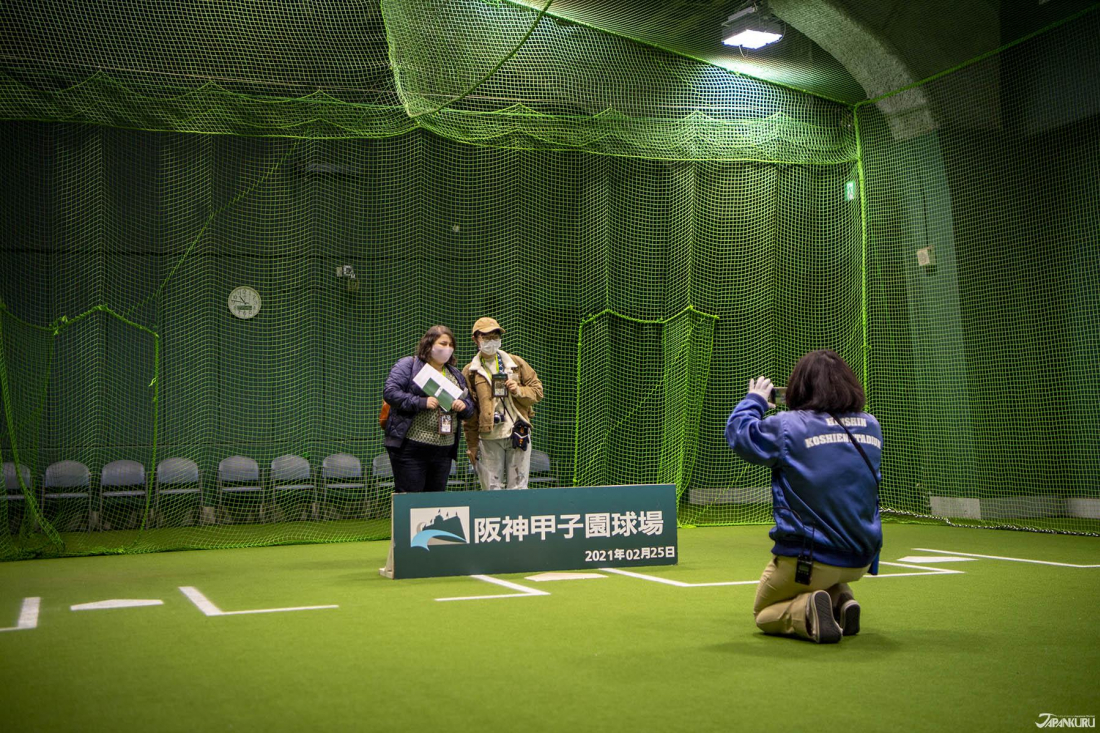 Don't forget to take a picture in the bullpen, which is carefully arranged to be the same size and shape as the area between the real pitcher's mound and home plate, so pitchers can get in some good practice!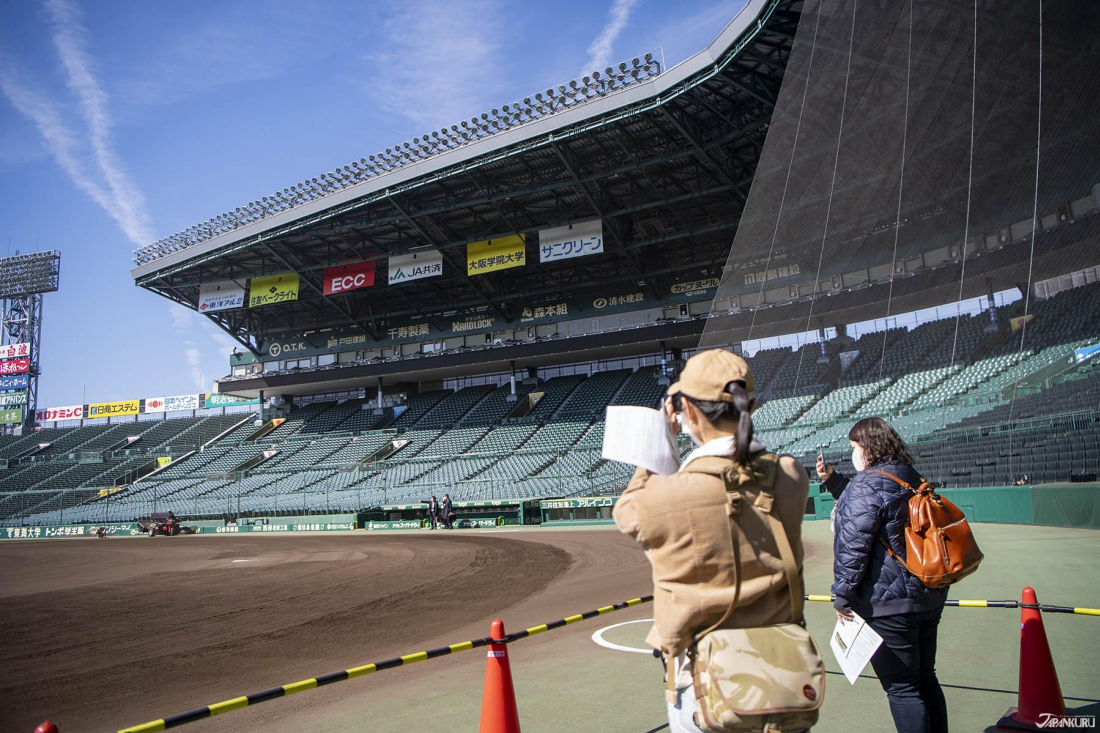 And enjoy your time out on the field, and in the dugout! Tour-goers get a chance to sit in the dugout and pretend they're on the team, waiting for their chance out on the diamond! And while the tour stays to the side of the field, this is the closest you get to the real dirt of Koshien, which high school baseball players are known to take home with them as a memento of their experience.
Stadium tour reservations can be made in Japanese online and over the phone, and on some days the phone staff may be able to speak enough English to make reservations as well. Visitors can join tours day-of, but spots are available on a first-come-first-serve basis.
The Museum of Hanshin Koshien Stadium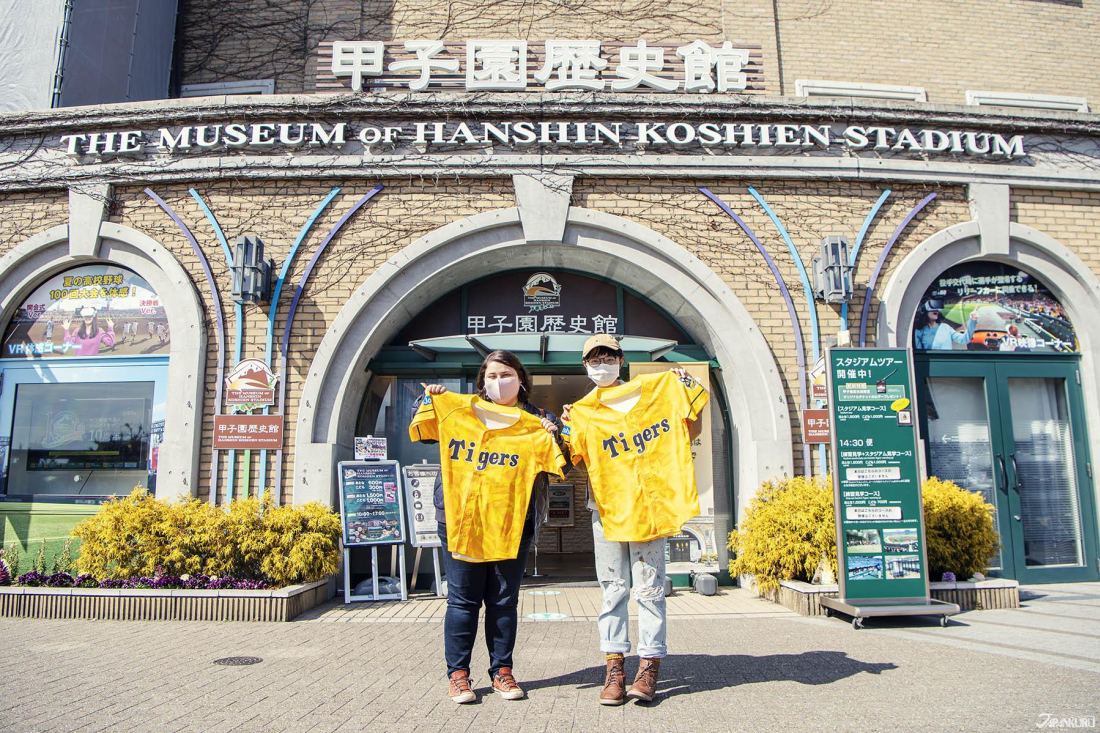 For diehard Japanese baseball fanatics and new fans alike, the Museum of Hanshin Koshien Stadium is hands-down the best place to learn about the history of this storied stadium, and the many teams that have played within. There's even a museum app that provides additional information in English, and AR photo frames for fun commemorative photos!
★ Pro Tip!
If you're planning to watch a game at Koshien, don't miss out on the chance to get a museum ticket too! The first 5,000 foreign visitors who use the official Koshien Ko-Ticket system to buy tickets to a game, and visit the museum as well, will get a special Hanshin Tigers fan jersey totally for free―perfect attire for sitting in the stands later that day! (Available while supplies last.)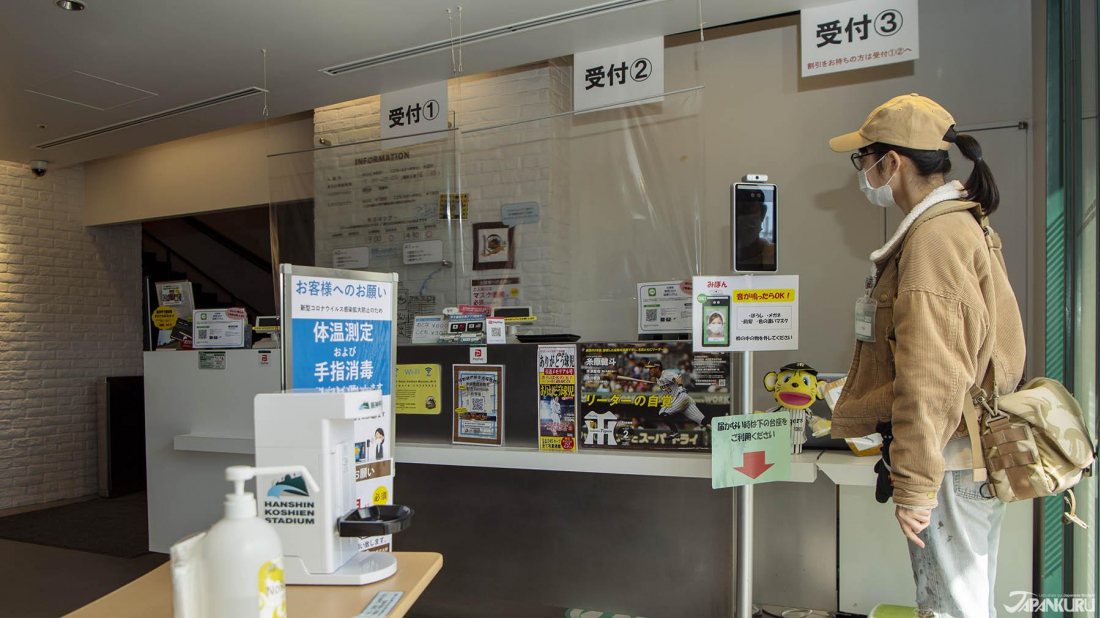 Before entering the museum it's time for hand sanitizer and a temperature check! Koshien has been proactive about tackling COVID-19 on all fronts, requiring masks on the premises, disinfecting surfaces, and asking for visitors' cooperation to keep the stadium safe to visit.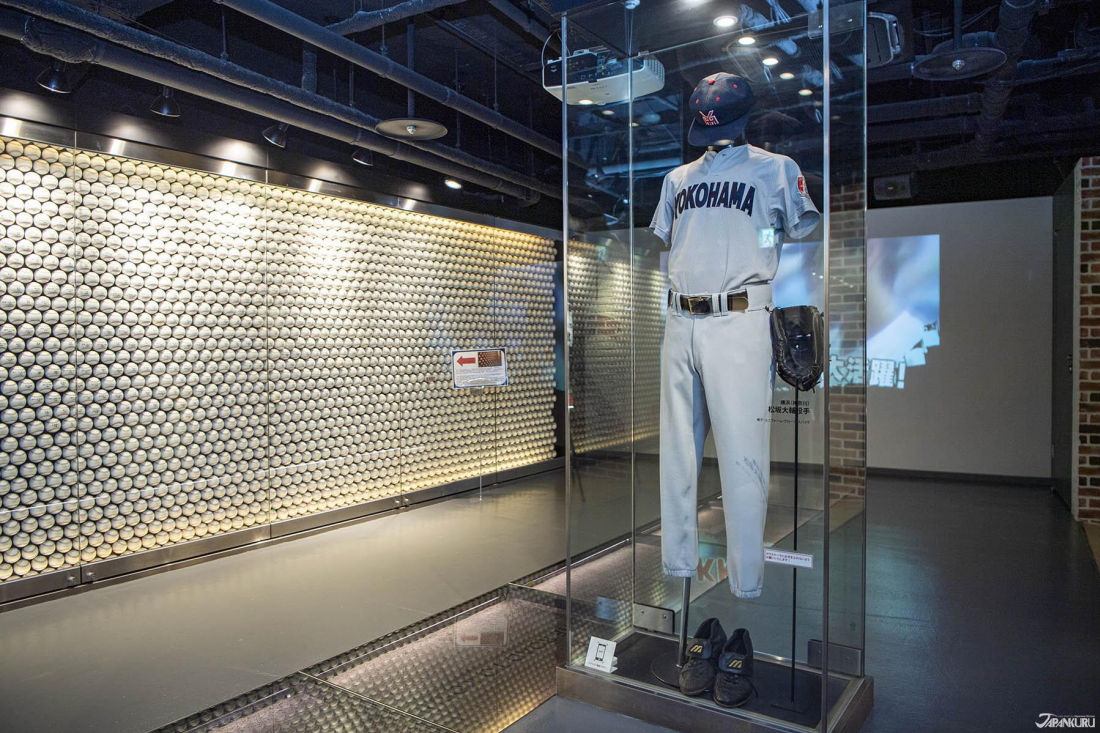 The museum caters to both high school baseball enthusiasts and Hanshin Tigers supporters, featuring exhibits on historic moments in the stadium and famous games, teams, and athletes. The exhibits even show off places where Koshien's two worlds clearly overlap! The very first room features the high school baseball uniform of Daisuke Matsuzaka, who participated in Summer Koshien with his high school baseball team years before he became a member of American teams like the Boston Red Sox or New York Mets, or his current Nippon Professional Baseball team, the Seibu Lions.
The wall of baseballs in this same picture is not only a striking display of all the high school teams to participate in Koushien's tournaments―it also clearly shows off one area in particular. For a few years, decades ago, the tournament also featured a small number of baseball teams from Taiwan and Manchuria, when the areas were under Japanese rule!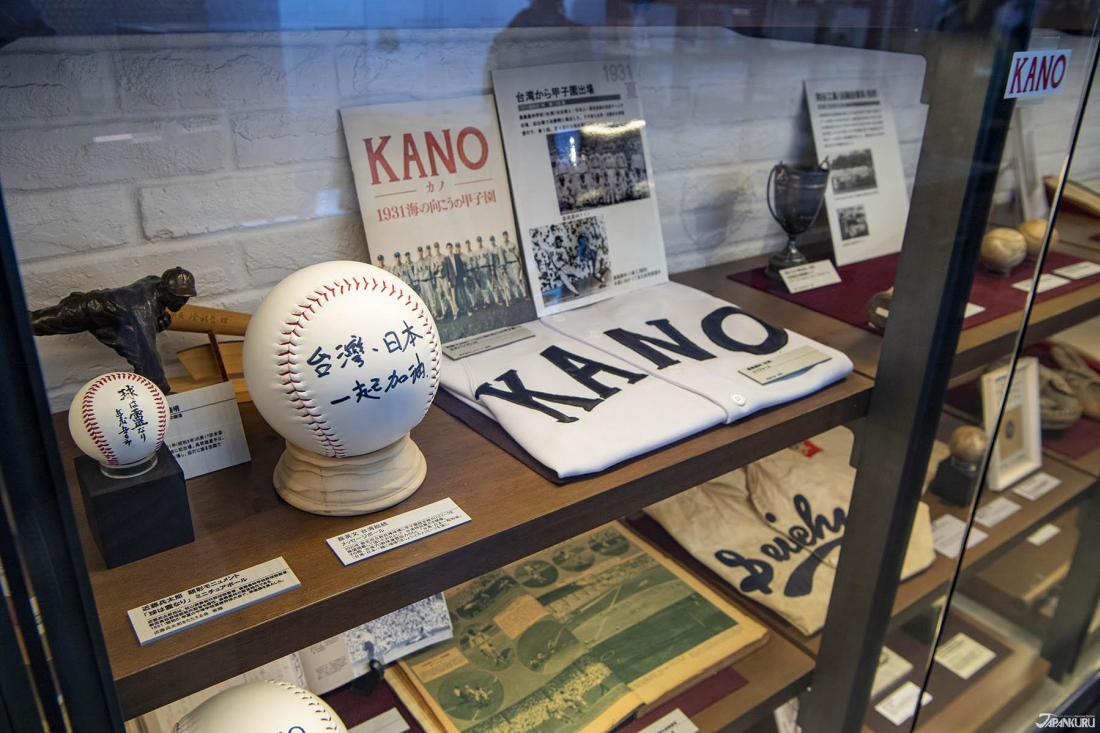 Modern-day Taiwanese visitors tend to be pretty enthusiastic about finding every spot where their local teams, the Taiwanese Kano baseball team in particular, are represented in the museum. Each spot is clearly marked, so you'll never miss them!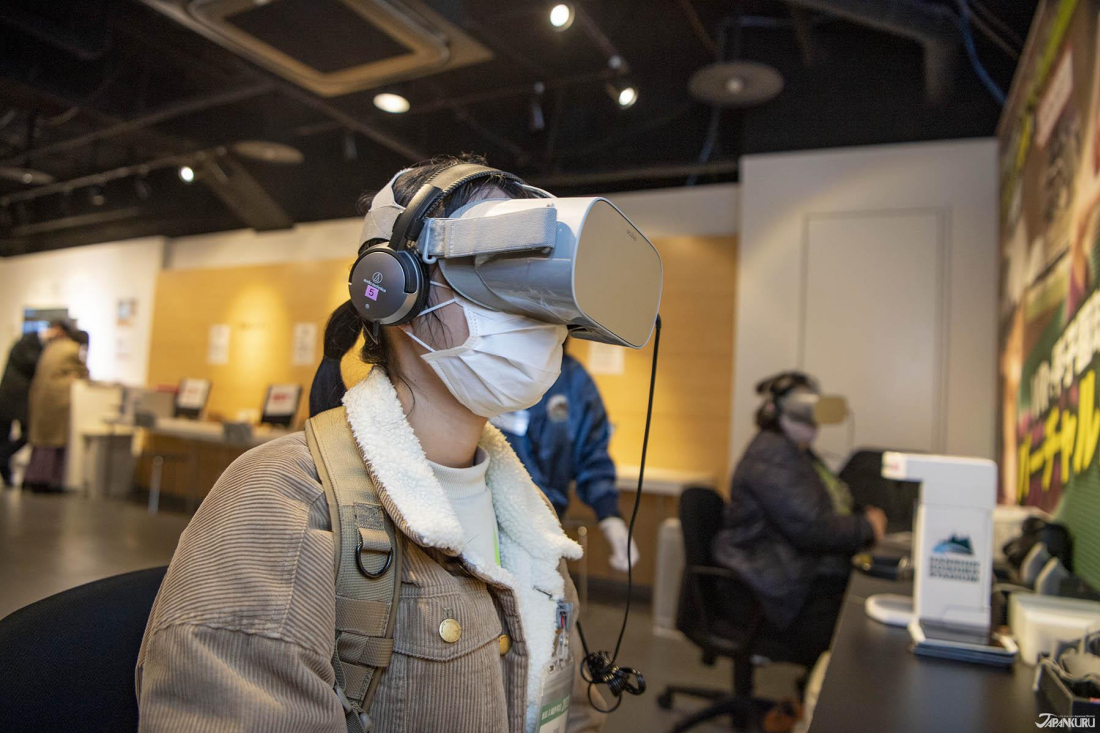 Aside from neatly arranged displays, the museum offers some more unique ways of getting into Koshien history, too. Their VR corner has headsets (sanitized between uses) that can totally immerse you into famous Koshien events in recent history, from momentous innings to cheerful celebrations of a winning team!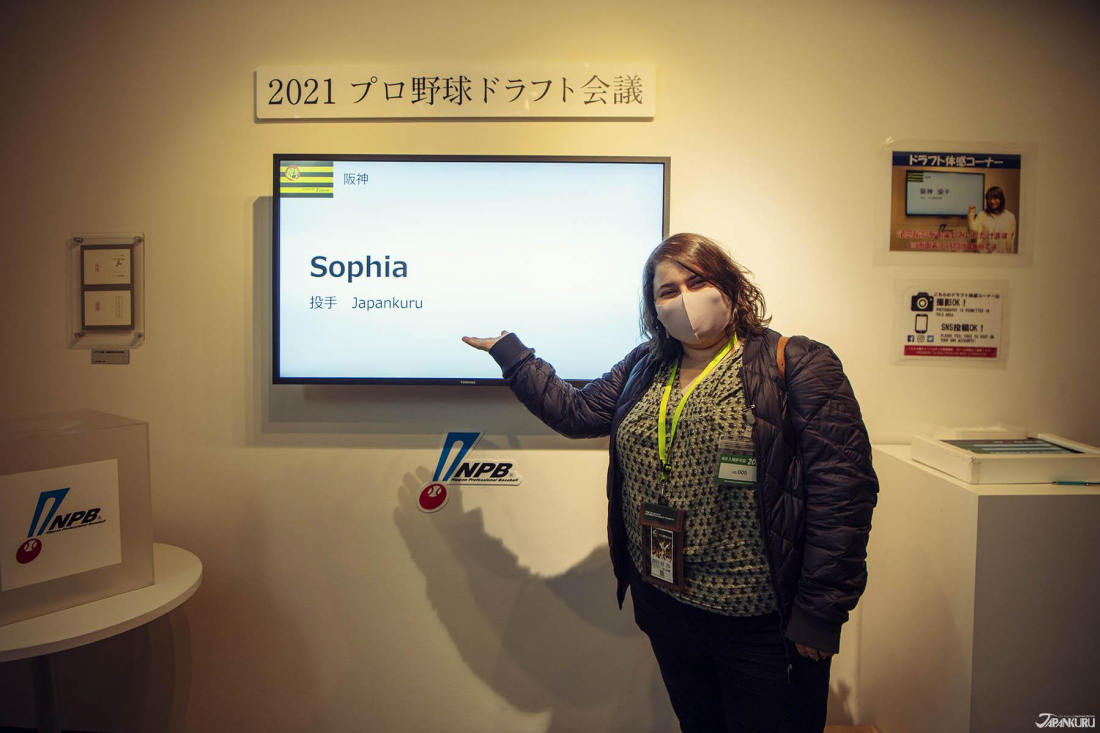 And if you secretly (or not so secretly) dream of becoming a baseball player yourself, this display looks just like the screen used when new draft picks are announced in Japan, so you can enter your own name and make your dreams come true (or at least pretend)! Looks like we've got a new Hanshin Tigers player over here!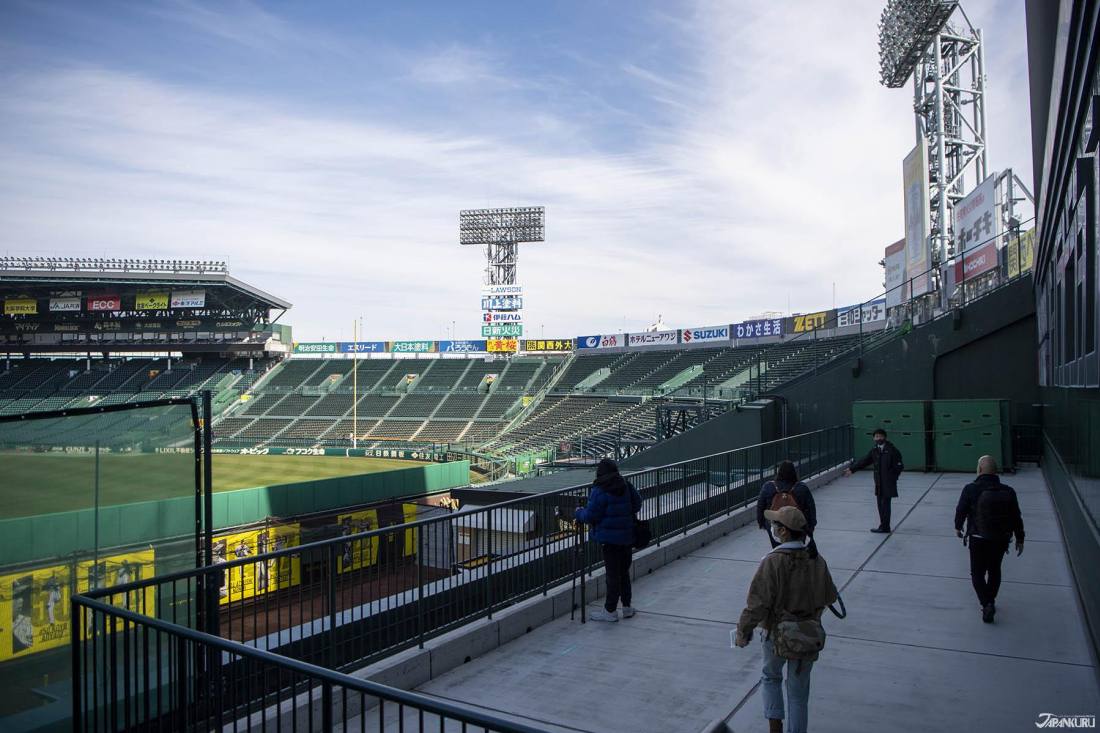 Whether you squeeze in a full stadium tour on the same day or not, the museum also offers access to a great viewing point in the stadium, right under the jumbotron! You can look up at the huge scoreboard, and look out over the whole field, to check out the "back screen view."
The Museum of Hanshin Koshien Stadium
*Closed for renovations from Sep. 6, 2021 to March 2022.
Official Website (en)
Before You Head Home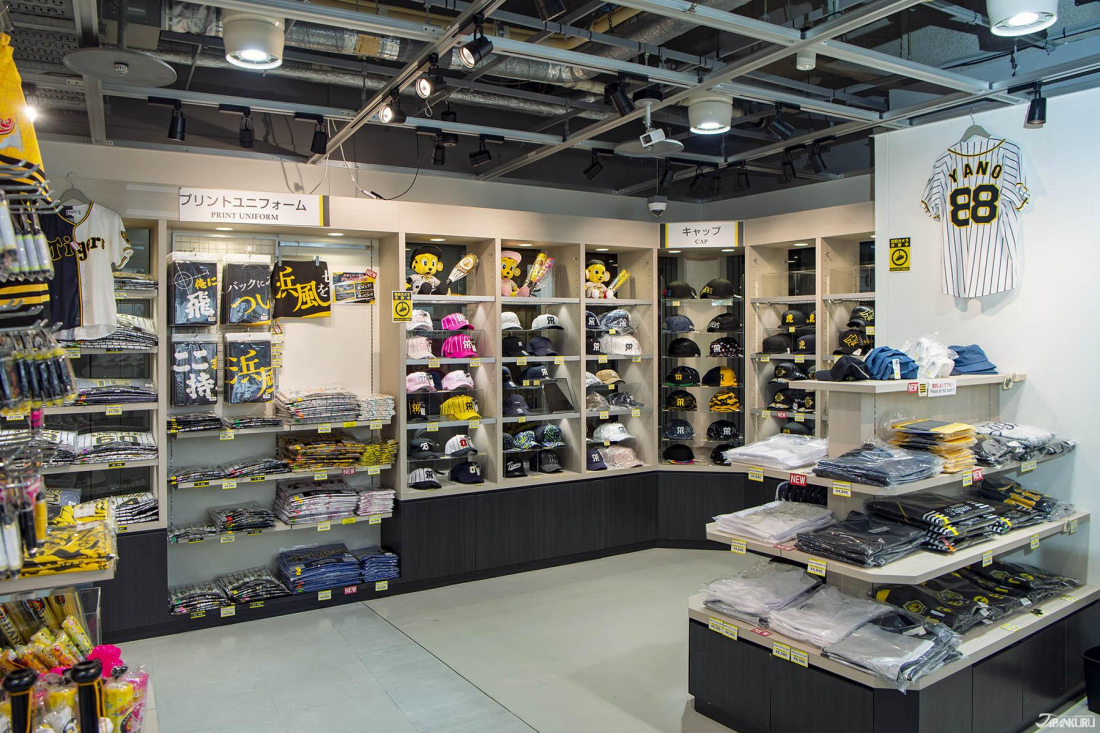 Ready to head back after a fun day of museum viewing, stadium tours, and baseball games? If you're anything like all of us on the Japankuru team, you'll probably want to stop by one of the gift shops on your way out. Whether you're grabbing souvenirs for a baseball-loving friend, or for yourself, there are options of all kinds: packaged Koshien curry and other snacks, baseball caps with roaring Hanshin Tigers and sleek logos, jerseys with some of the team's most popular numbers and names, classic souvenirs like magnets and keychains, fun stuff like customizable jerseys (and even jerseys for your pets!), and even towels decorated with the big balloons that fans let flying into the air during the game. There's a little something for everyone.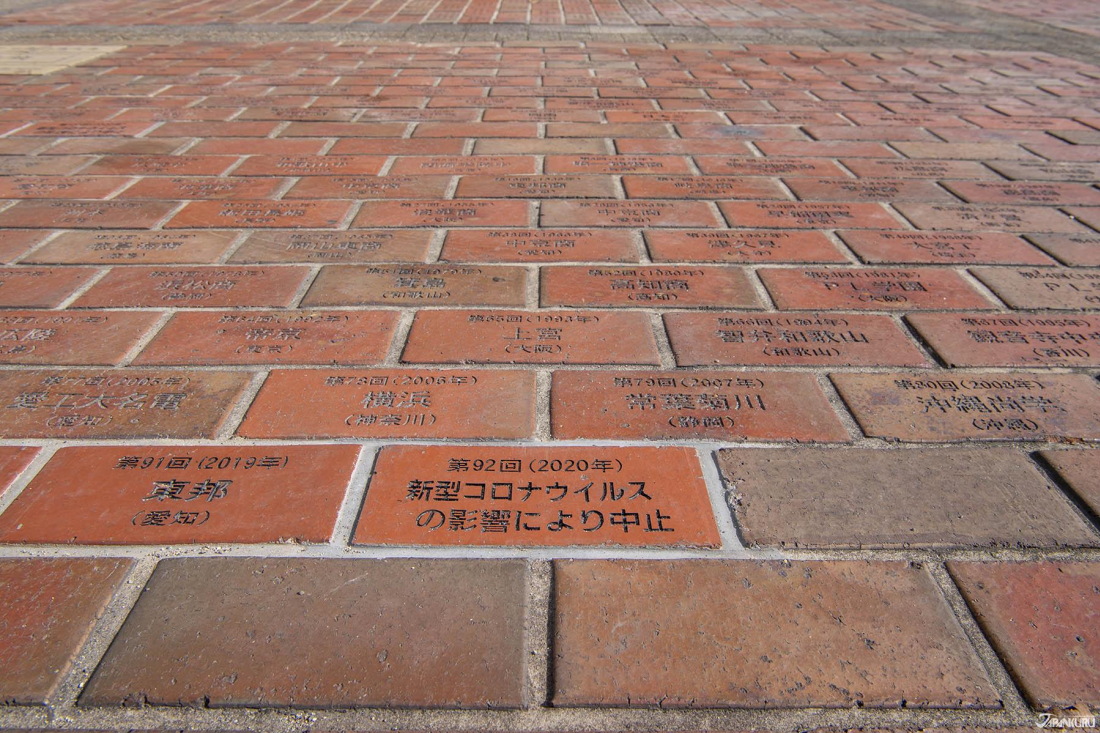 And on your way out, you might just notice the bricks laid next to the stadium, commemorating each team to win a high school Koshien tournament. The 2020 brick sadly remarks that the high school competition was canceled due to COVID-19, but we look forward to more tournaments to come, and many more chances for Japan's high school baseball players to celebrate on the hallowed ground of Koshien in the coming years!
(If you want to pretend to be a winning Koshien team too, there may be a chance in the coming year or so for fans to sponsor similar bricks laid in front of the stadium. Keep an eye out!)
So, are you ready to spend a day at the ballpark? Whether you're looking to see the Hanshin Tigers playing their hardest as the home team, explore the depths of a historic Japanese stadium, or learn all about essential parts of Japanese baseball history, Hanshin Koshien Stadium is waiting!
For more info and updates from Japan, check Japankuru for new articles, and don't forget to follow us on twitter, instagram, and facebook!
Source: JAPANKURU