What Is a Michi-no-Eki? – 3 of Japan's Best Highway Rest Stop "Road Stations"
Japanese road trips are a dream thanks to all the local fun of these roadside rest stops!
The Michi-no-Eki: Rest Stops, But Better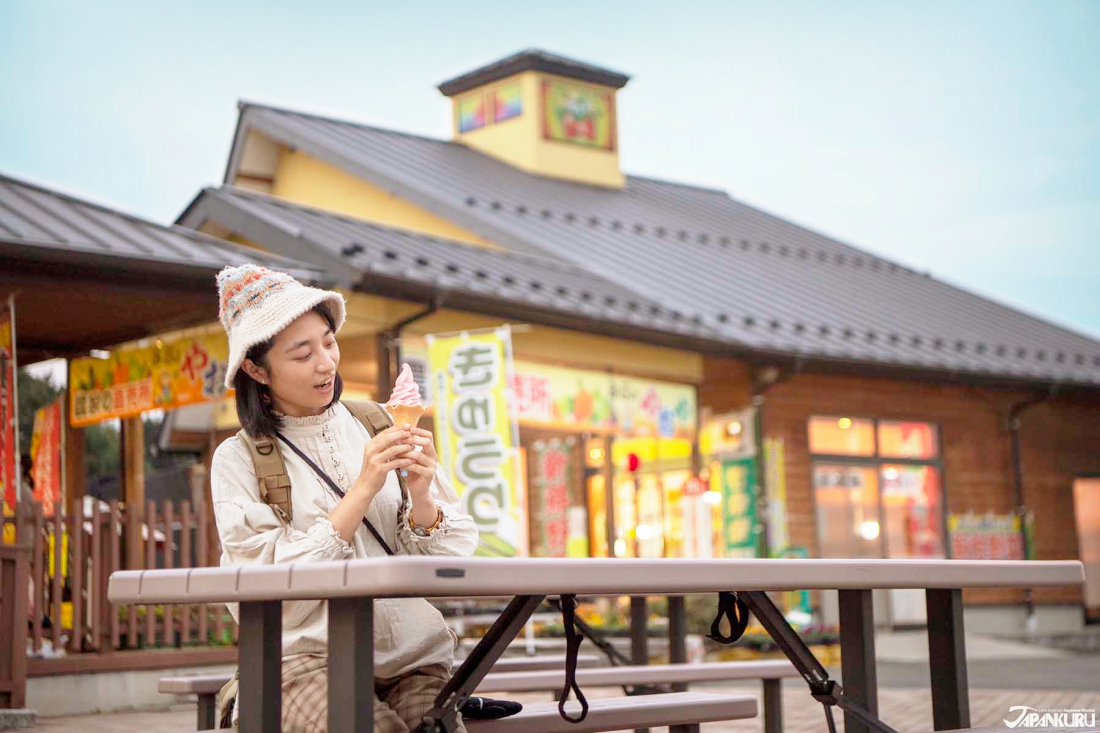 Japan likes to polish its transportation methods until they shine. Airports are carefully laid out and the shops are surprisingly affordable, trains are (mostly) on time and (mostly) sparkling clean, and even when you hop in a car and head out of the city, the roadside rest stops are out of this world. Japan actually has a few different kinds of rest stops, many of which are given the name "PA" or "SA" (parking or service area) and equipped with a range of practical facilities, including gas stations and (extremely clean) bathrooms, but also convenience stores, souvenir shops, and often casual restaurants. For the most part, even the most average Japanese PA or SA is like the very best highway rest stops found in other countries. But Japan's third variety of rest stop is possibly the best of all: the michi-no-eki (道の駅), sometimes translated into "road station." These "road stations" focus on local culture, often selling produce from nearby farms and famous products from the region, or hosting restaurants offering local cuisine, and some michi-no-eki rest stops go even further, adding roadside attractions for even more fun. Car rentals and trips into rural Japan have become increasingly popular among travelers visiting Japan in recent years, and the many michi-no-eki along the highways are a highlight of any road trip. Don't miss these amazing road stations on your next adventure into the Japanese countryside!
Must See Michi-no-Eki ①:Tendo Onsen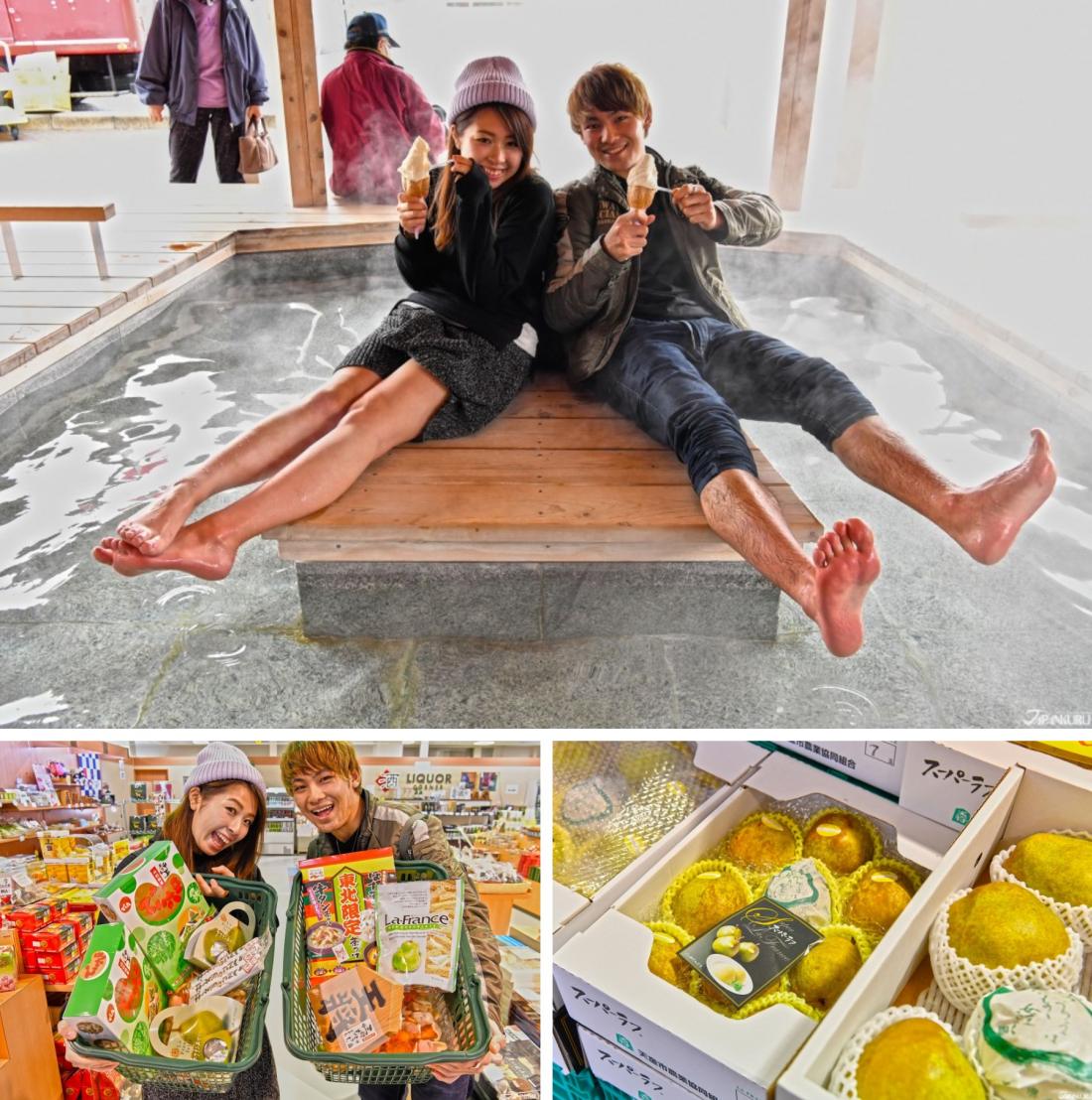 Tendo is a small city in Yamagata Prefecture, tucked away in the northern reaches of Japan's Tohoku region, with warm summers, cold winters, and a reputation for Japanese chess. For all the shogi (将棋) lovers out there, the Tendo Onsen michi-no-eki has a shop that sells personalized Japanese chess piece key chains, but many travelers will be even more excited about the other luxurious local specialties that can be enjoyed at this little rest stop.
Thanks to Tendo's striking climate, it's famous for growing delicious fruit and produce, especially pears and cherries. Stop by the pastry shop and gelateria Tento for fruit-filled baked goods and gelato in a variety of flavors. Their top three best sellers are tsuyahime Japanese rice gelato, local pear & milk gelato, and dadacha edamame gelato! Which of these fun flavors sounds the best to you?
If you'd rather snack on something a little more savory, the neighboring shop Tanno Konnyaku specializes in konjac – a plant that makes jelly-like foods of all kinds. Abroad, fruit-flavored konjac jellies are often found in Asian groceries, but konjac in Japan is frequently made into savory dishes of one kind or another, and Tanno has some creatively tasty options!
Once you've got your snacks and souvenirs, you won't want to miss the chance to soak away all the fatigue of the open road, because Tendo Onsen really does have onsen – AKA hot springs! The area near by has plenty of onsen baths if you really want to relax, but the michi-no-eki has its own naturally-sourced onsen footbath, open to any tired feet traveling the roads of northern Japan. Staff might even recommend enjoying your gelato while your feet soak – all that hot and cold is said to be good for your circulation. Come to Michi-no-Eki Tendo Onsen tired and hungry, and leave with great circulation, clean feet, and the newfound knowledge of what bean-flavored ice cream really tastes like!
Michi-no-Eki Tendo Onsen (道の駅 天童温泉)
2-3-41 Kuwanomachi, Tendo, Yamagata
Official Page (jp)
Must See Michi-no-Eki ②:Marine Dream Nou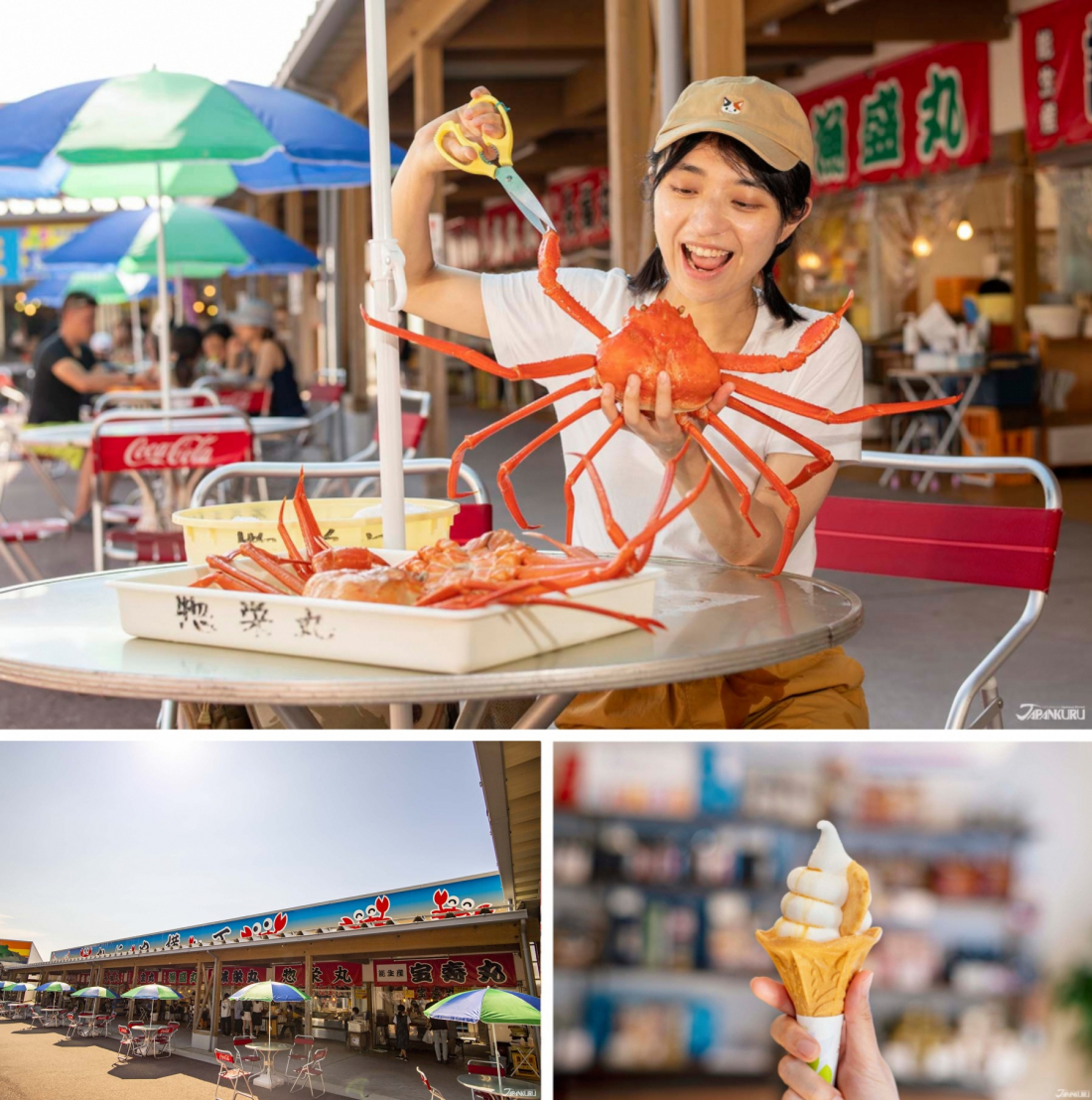 Wedged in between the ocean, a highway, and a famous local bike path running along the coast of the Sea of Japan (Kubiki Cycling Road), Michi-no-Eki Marine Dream Nou might be located in the "City of Jade" Itoigawa, but this rest stop is made for enjoying the bounty of the sea. Itoigawa earned its poetic nickname due to the fact that real jade can be found in the mountains, along waterways, and even in pebbles on the beach, but the city is also located right between two major fishing ports. With salty sea breezes blowing past and the water literally so close you could touch it, it only makes sense to enjoy the fresh seafood at great prices while you explore this city in Niigata.
The Marine Dream Nou road station sells a variety of fresh seafood, but if you don't try the crab, you're doing it wrong. Except for a couple of months at the height of winter (Jan~Feb, a designated off season), the most popular item at this seafood market is red snow crab (ベニズワイガニ, benizuwaigani). And at this michi-no-eki, there's a whole row of little seafood shops and stalls run by local crab boats called Kaniya Yokocho (カニや横丁), literally "Crab Alley," each boat bringing their catch straight to the market for road-trippers, bike-riders, and locals to enjoy together. Once you choose your crabs, they're happy to cook them up and serve them piping hot, along with a whole tool kit for getting the meat out of every nook and cranny.
For dessert, you won't want to miss the rest stop's fish and caramel ice cream! Michi-no-Eki Marine Dream Nou sells a whole selection of products developed by students attending Niigata Prefectural Maritime High School in collaboration with local businesses, and their most popular item is the salmon fish sauce called Saigo-no-itteki (最後の一滴), literally "the last drop". The rest stop's ice cream (made from fresh milk from local farms!), is topped with a caramel-and-fish-sauce syrup, featuring the rich umami of Saigo-no-itteki. Whether you love it or hate it is a matter of personal taste, but you're not likely to find something like it anywhere else!
Marine Dream Nou (道の駅 マリンドリーム能生)
3596-2 Noukodomari, Itoigawa, Niigata
Official Website (en)
Must See Michi-no-Eki ③:Mibu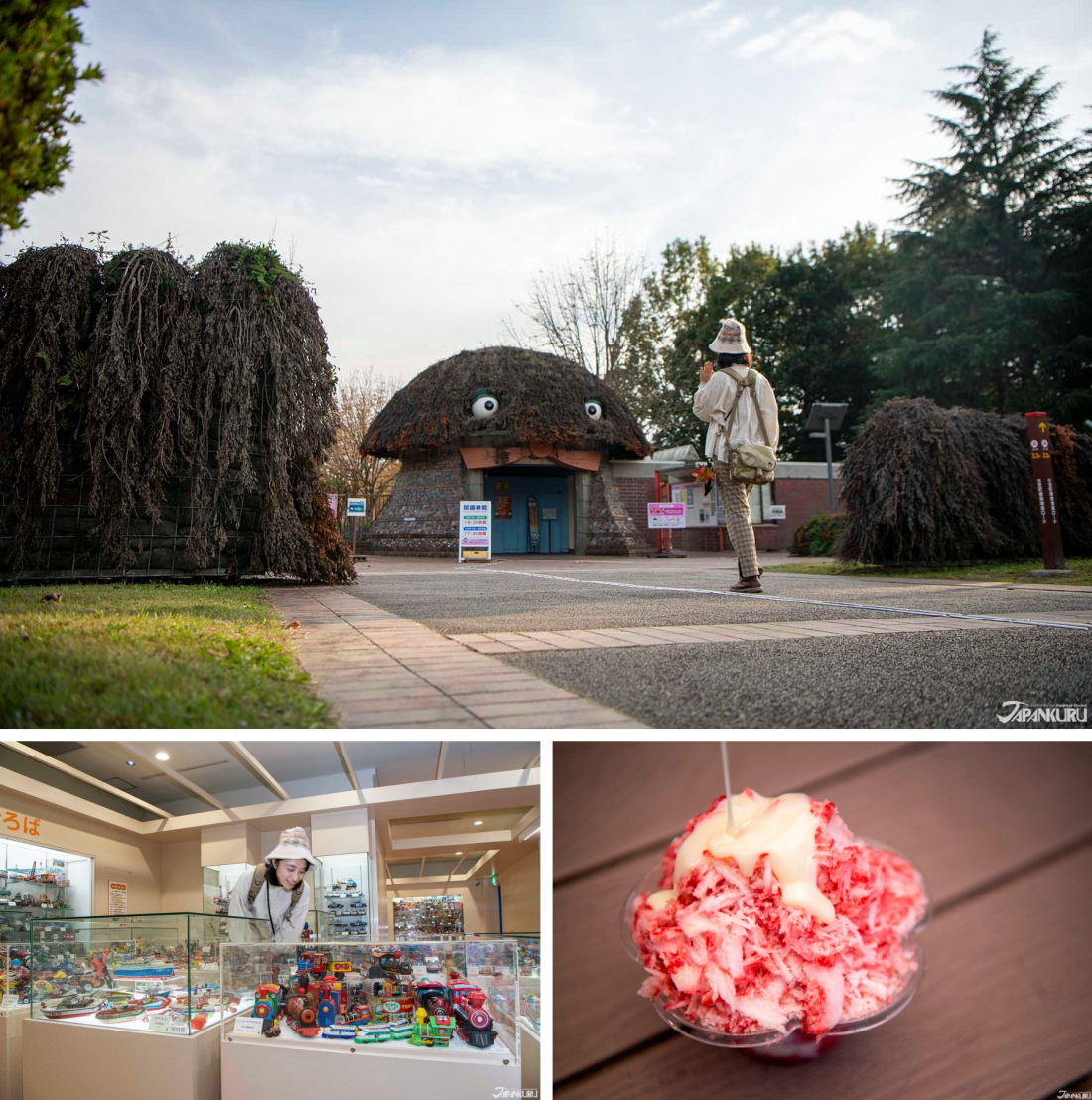 One of Tokyo's neighbors with a handful of great destinations, Tochigi Prefecture is a popular place for city dwellers to drive for a day trip or a weekend away, but this road station is a destination itself. Michi-no-Eki Mibu has a market selling local delicacies, and a variety of tasty treats to try, but it's also connected to Tochigi Wanpaku Park, which is a little like if a playground were the size of an amusement park. The park has fields of flowers to run through, things to climb on, a mysterious boat to explore, grassy lawns to roll around on, an enormous dinosaur-shaped slide, a hedge maze, mini paddle boats, and a lot more for kids to enjoy!
Next door, the Bandai Museum is another hit with the kids, and it's a nostalgic place for adults too. It's a museum dedicated to toys, and while there are plenty of places to play, there are also decades of old toys on display for visitors to marvel at!
Back in the shopping area, you won't want to leave this michi-no-eki before you've tasted some of the sweets made with Tochigi's famous strawberries. The "fruit parlor" Mib-Town offers some extremely luxurious shaved ice that's not actually made from ice and syrup, but actually real frozen strawberries, shaved to perfection and drizzled with a generous pour of sweetened condensed milk.
Michi-no-Eki Mibu (道の駅 みぶ)
1870–2 Kuniya, Mibu, Shimotsuga District, Tochigi
Official Website (jp)
★ Bonus ★:Hanyu Parking Area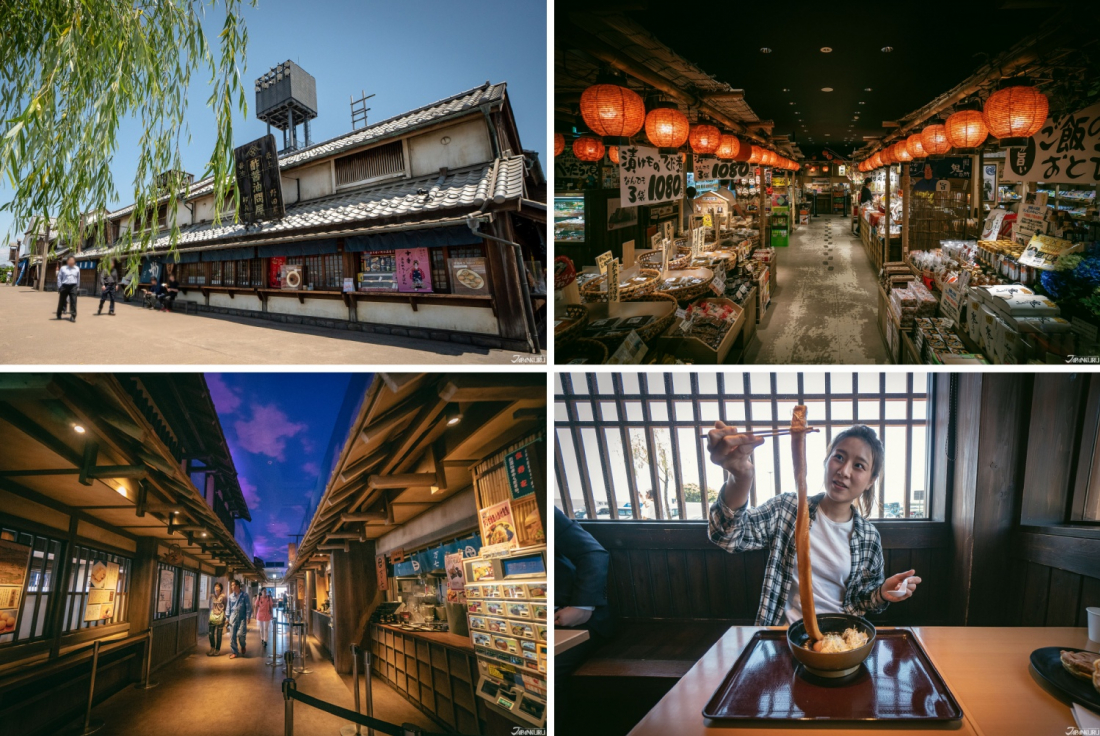 Not a michi-no-eki, but still worth stopping at on your next road trip in Japan, the Hanyu PA in Saitama looks more like a roadside rest stop from the Edo period (1603-1868) than it looks like modern times. The buildings are constructed to look like a town from the age of samurais, and even when you step inside the shops and restaurants, it can feel a little like you stepped back in time. The whole thing is actually based on a fictional town from the popular historical novel "Onihei Hankacho" by Shotaro Ikenami, although the bathrooms are at least blessedly modern. Pick up some old-fashioned snacks while you're there, or try a beast of an udon noodle – the rest stop's legendary "ippon udon."
Hanyu Parking Area Nobori/Southbound (羽生PA 上り)
1686 Miroku, Hanyu, Saitama
Official Page (jp)
Become a Michi-no-Eki Expert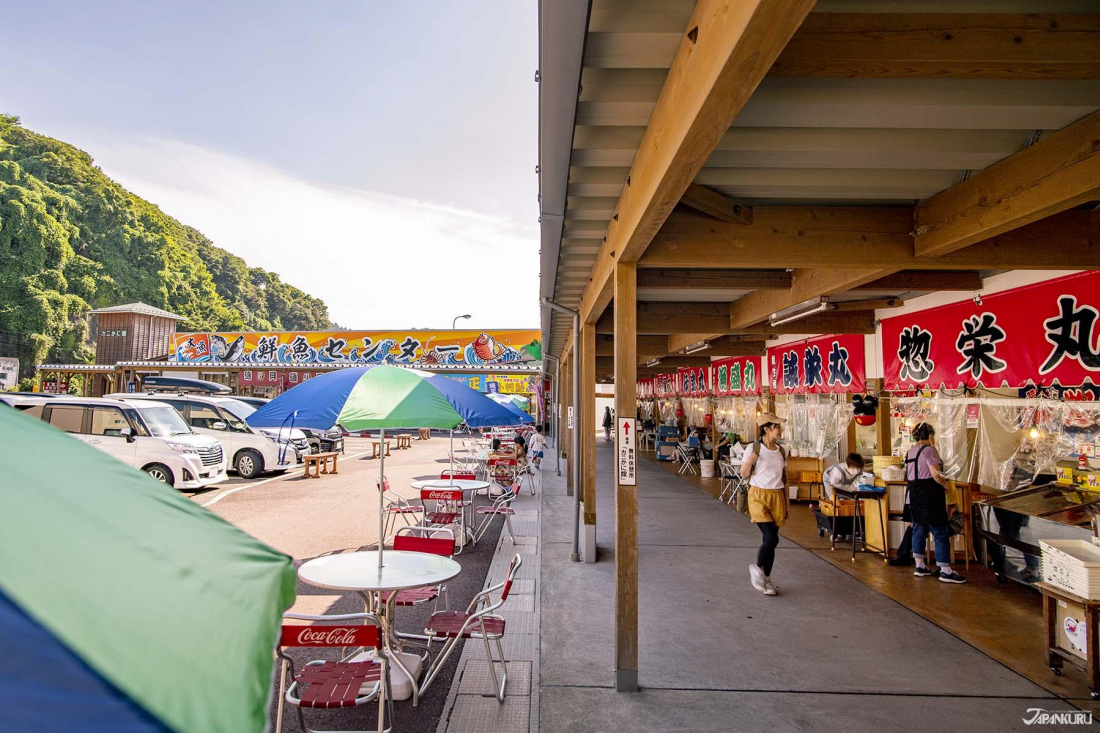 With road trips on the rise, there's more opportunities than ever to see the beautiful back streets of Japan, and check out all the great rest stops while you're there. What makes michi-no-eki so great is that each and every one of them is dedicated to sharing the best of the local community, whether that's food straight from the farm down the road, the natural hot springs bubbling up from under your feet, or just a city's love for playtime. Each and every one is unique! And when you add road stations to your route, you get to expand your palate with quite a few surprising local delicacies, too. Next time your drive through the forested mountains or the unending rice paddies of the Japanese countryside is interrupted by a michi-no-eki, make sure you stop in – you never know what you might be missing!
For more info and updates from Japan, check Japankuru for new articles, and don't forget to follow us on Twitter, Instagram, and Facebook!