Top 5 Things to Do in Akihabara, Tokyo
Sightseeing in Akihabara? Get ready for arcades, anime, technology, and even a little Shinto shrine history!
A Quick Look at Akihabara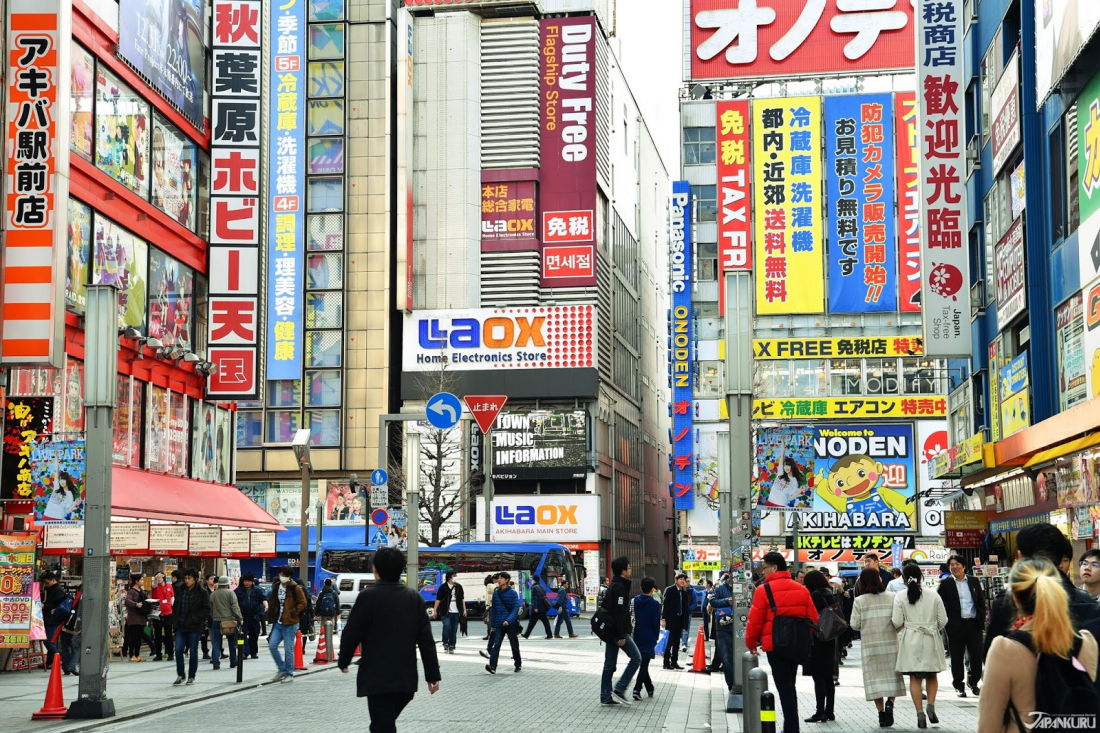 A must-see for nerdy sightseers of all stripes, the Akihabara area of Tokyo gets its name from a Japanese god said to control fire, but perhaps it would have made more sense to find a god of electricity! The establishment of Akihabara Station sparked the growth of a large market in the late 1800s, and after World War II, Akihabara's sellers went from offering fresh produce to black-market goods, eventually leading to an explosion in household appliances. Since then, the Akihabara crowd has expanded to include all kinds of "otaku," and modern-day shoppers still flock to Akihabara to buy electronics both used and new, plus video games, anime and manga merchandise, cosplay materials, hobby goods, and a variety of other niche products. All kinds of hangout spaces have also popped up to let those with nerdy interests mix and mingle, including unique cafes and arcades that read high into the sky. And of course, there is still a touch of Japanese tradition to be found in this unique Tokyo neighborhood!
Scrounge Up Some Great Deals on Tech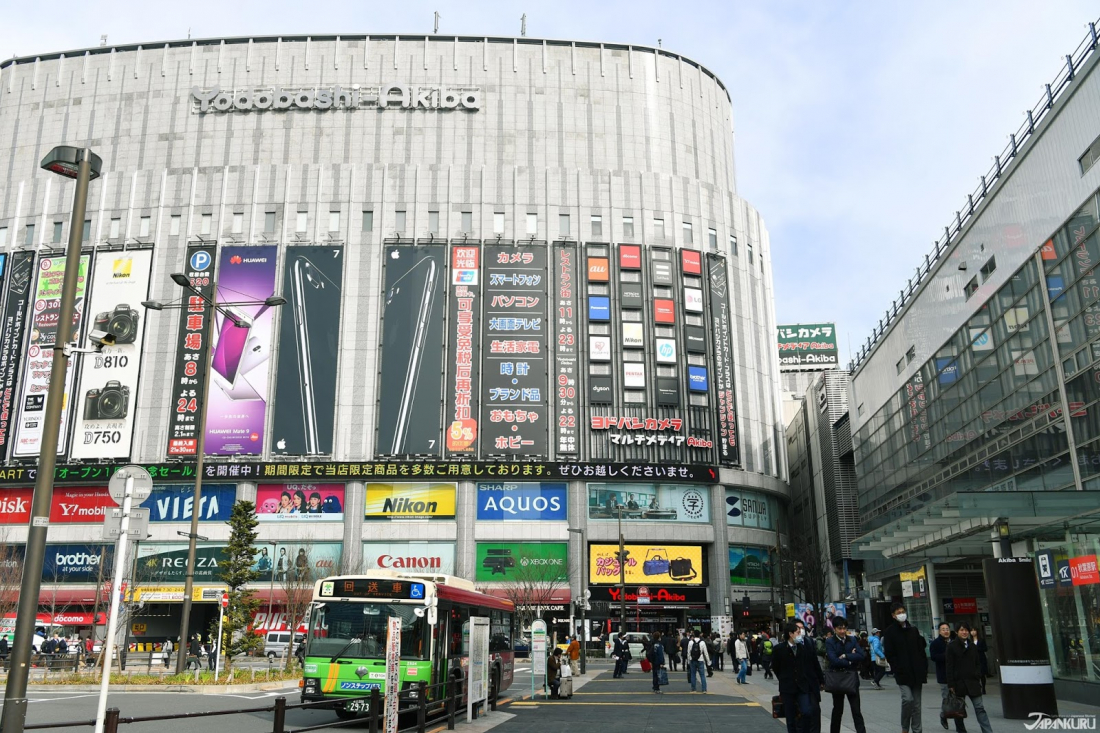 With origins as a marketplace for electronic goods, it's no surprise that there is still plenty of electronics shopping to be found in Akihabara. For the latest products sold brand new, a handful of large-scale major electronics chains have sprung up in the area, like Yodobashi Akiba, a Yodobashi Camera department store with six floors of electronic goods, a floor of clothing and lifestyle goods, a restaurant floor, and rooftop batting cages. Many Akihabara experts who know what they're looking for will avoid the enormous electronics department stores, however, and instead make their way to the small electronics stores selling new and used items down the smaller side alleys a little bit further from Akihabara Station. These shops have more specialized wares and staff, more unusual items, and sometimes unbeatable deals – if you get lucky!
Browse the Shelves of Anime Figures, Manga Volumes, and Endless Merchandise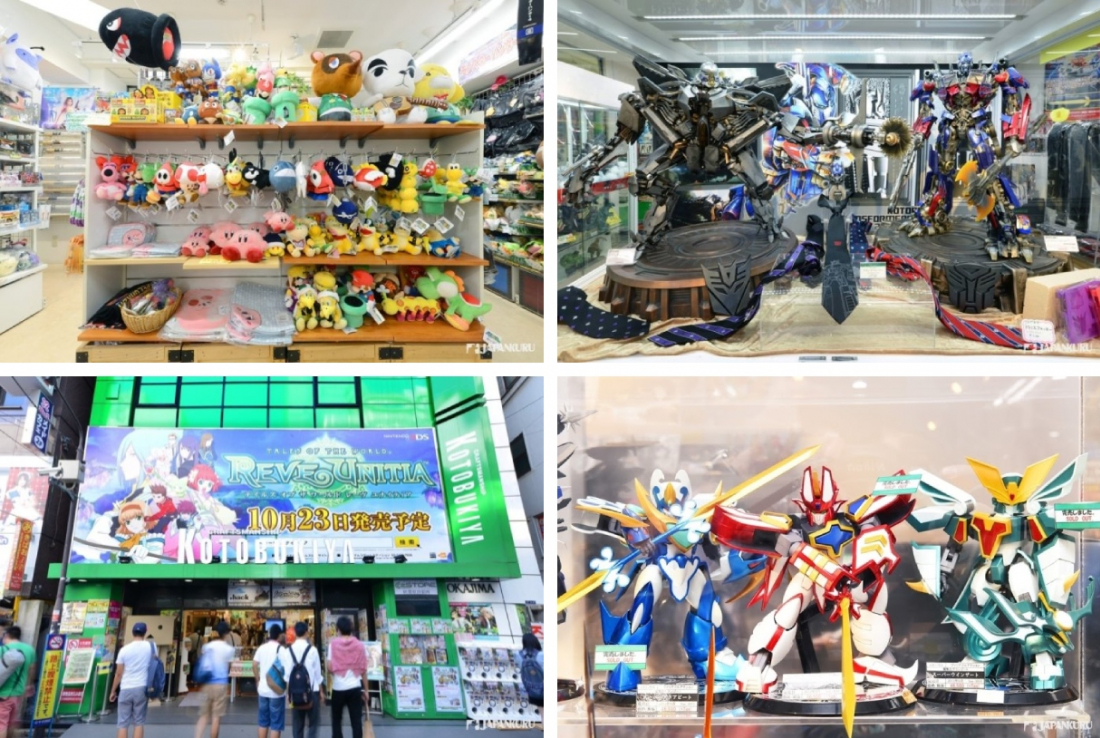 Anime, manga, video game, and other character merchandise is big business in Akihabara, and there's no avoiding the many shops that specialize in these goods. Down the main street and along side alleys, there are stores selling figures of Gundam mechs and flirtatious anime heroines, cute character keychains, big stuffed Pokemon toys, pillows, posters, t-shirts, stickers, stationery, and all kinds of goods that are simultaneously tempting and clearly totally useless. Many well-known names in the business have one or more locations in Akihabara, including Animate, Lashinbang, Mandarake, and Surugaya, and for those feeling a little lost in the bustle of the area, the Akiba Cultures Zone is a 5-floor complex that makes an easy place to start. Like with electronics, though, part of the fun of Akihabara shopping is to explore the streets and enter all kinds of shops, big and small, to search for hidden treasures!
Play Games & Flip Tables in an Arcade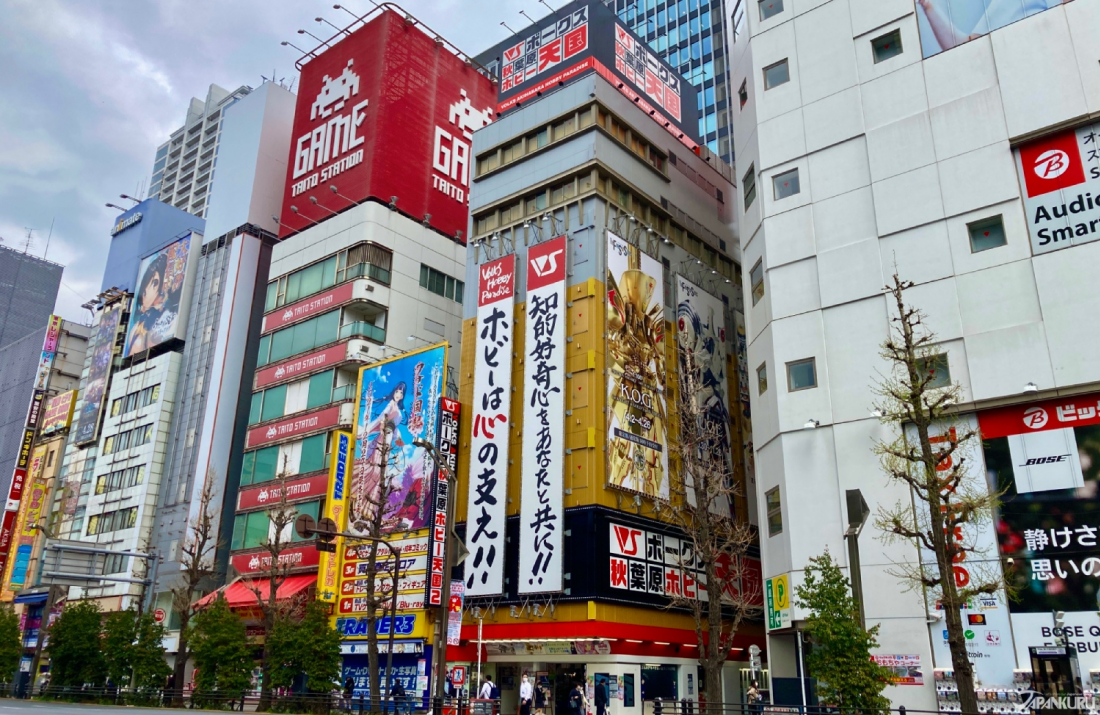 For a glimpse of Japan's famous arcade scene, there's nowhere like Akihabara! While the neighborhood's famously enormous Sega arcade closed its doors back in autumn 2020, the area still has a number of huge, multi-floor buildings dedicated to arcade games of every genre, ready to take up the mantle. Classic fighting games, rhythm games controlled by feet, hands, or drumsticks, shooting games controlled by big plastic guns, racing games controlled by big plastic wheels, and even some unusual games that are unlikely to be found outside of Japan (like our favorite, where you cause as much destruction as possible by flipping a real plastic table top), the arcades have just about everything. And while you can certainly spend hours going from game to game and quickly going through hundreds of yen, you can also take some silly photobooth pictures at a purikura machine (generally found in arcades), or even watch others play certain games at a level you're not likely to reach (sometimes audiences will even form around unbelievably good players). Akihabara's arcades are worth a look, whether you frequent them back home or you're a total newbie.
Eat with Some Unique Company at a Theme Cafe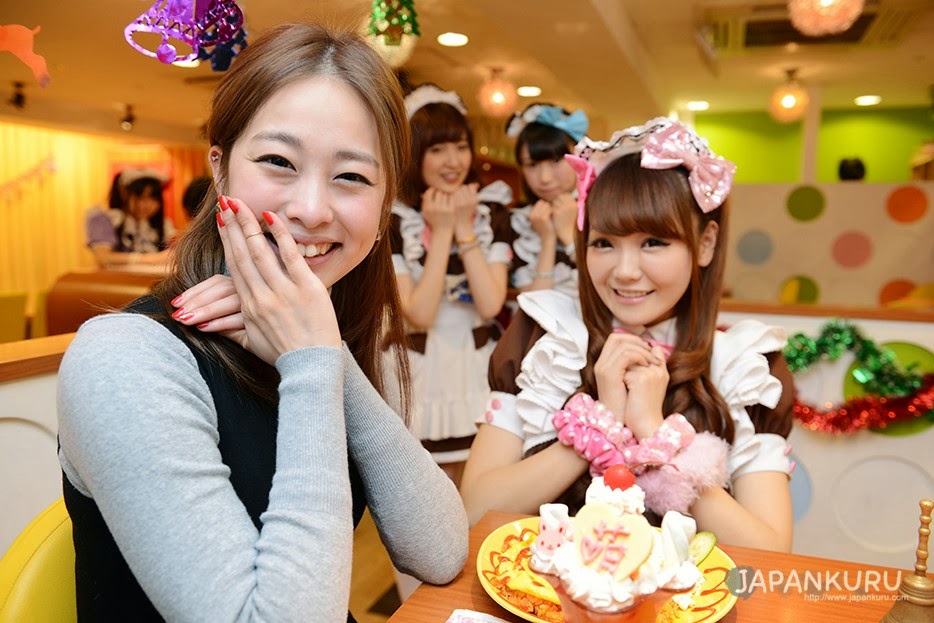 There's only so long you can shop and game before a break is in order, and when the time comes, Akihabara's nerd culture has created some interesting options for rest and relaxation. The classic Akihabara choice is a maid cafe, where young women dressed in maid costumes serve guests cutesy food, pose for photos, and occasionally perform songs or dances (all for a price). It's an experience that rests somewhere on the border between uncomfortable and not-to-be-missed. (A certain level of irony might be a prerequisite for a visit, but don't let cynicism ruin your brief trip to a magical world of pink, frills, and finger hearts!) There are a number of popular maid cafes around Akihabara, including those with different themes (sometimes it's maids with animal ears, or maids in Japanese style costumes), but there are also cat cafes, owl cafes, and other kinds of themed cafes for anyone who isn't quite ready to hang with the maids (or has been there, done that). Up until January 2022, for 12 whole years, the Gundam Cafe right next to the Akihabara Station entrance was a must-see for fans of the beloved, long-lived world of Gundam. Perhaps the lack of foreign tourists proved to be a death blow for this unique eatery. But the Gundam Cafe has paved the way for other nerdy establishments of its kind, and we look forward to seeing what will follow in its footsteps.
Pray to the Shinto Gods at Kanda Myojin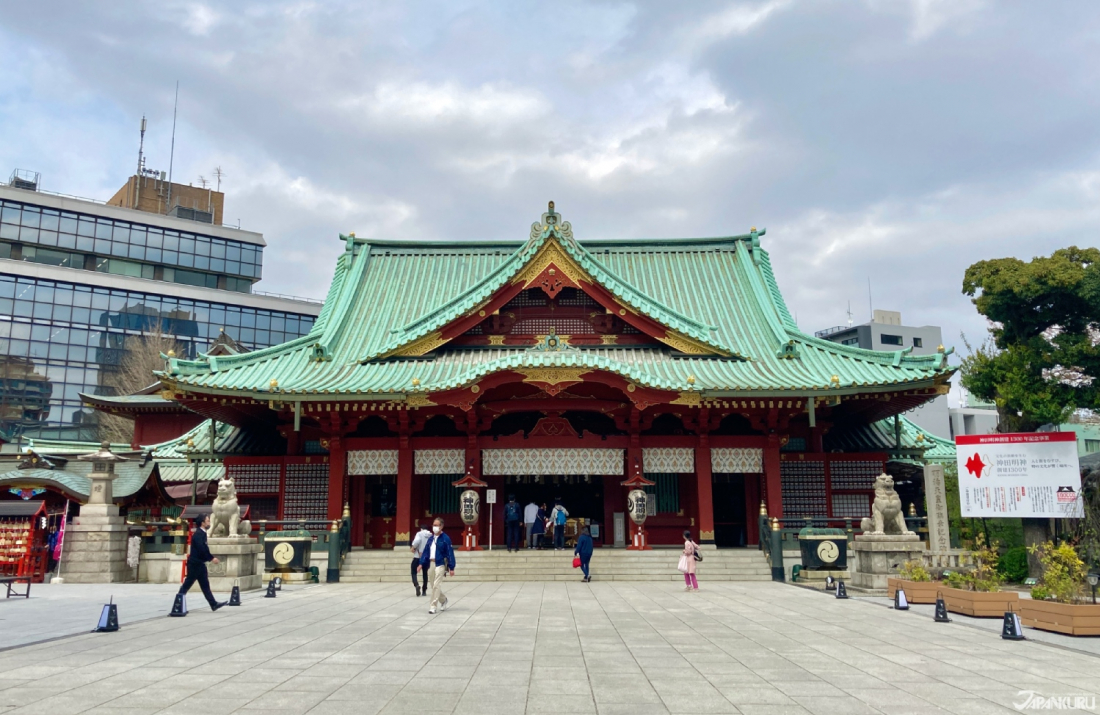 Want to get away from the crowds of Akihabara's busy shopping streets and find a different kind of vibe? Just a few minutes on foot from Akihabara Station, the quiet grounds of the area's most popular Shinto shrine offer a different kind of Akihabara experience. Kanda Myojin Shrine was established 1,270 years ago, and is dedicated to three major deities, Daikokuten, Ebisu, and Taira no Masakado. In the Edo period (1693-1868), the shrine was important to both average citizens and the samurai class of Edo, even attracting the likes of Tokugawa Ieyasu (Japan's first shogun). These days, you're not likely to spot any samurai at the shrine, but visitors include tourists coming to see the beautiful architecture, locals out on walks, and plenty of nerdy folk taking a break from shopping. The shrine's omamori talisman offerings even include good luck charms said to ward off computer viruses and other electronics problems! Don't forget to grab your own omamori at Kanda Myojin to protect all your purchases before you leave Akihabara.
Kanda Myojin Shrine (神田明神)
2-16-2 Sotokanda, Chiyoda City, Tokyo
Official Website (jp)
Around Akihabara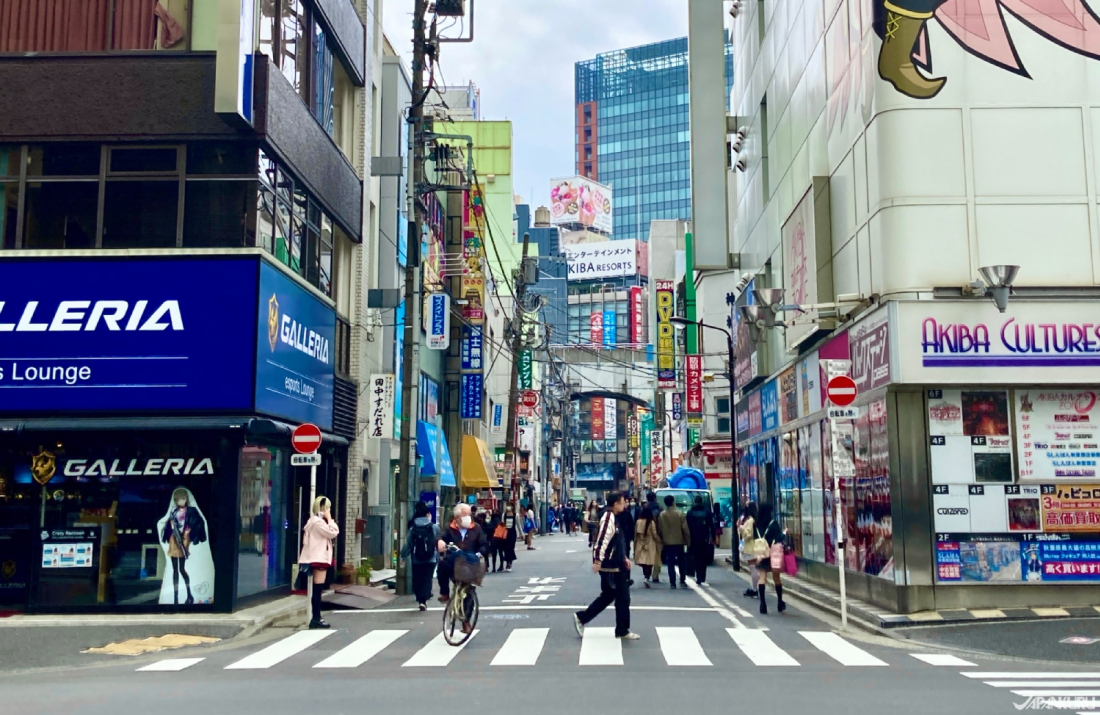 Akihabara made a name for itself in postwar Japan through the sales of cheap electronics, and the area has grown into a mecca for all things nerdy, attracting visitors from all over the country (and all over the world). For anyone with a full wallet, an empty suitcase, and an interest in Japanese otaku culture, a visit to Akihabara could easily take up a whole day. But for those who want to squeeze a whole lot of Tokyo into a little bit of time, Akihabara Station is on the convenient JR Yamanote Line, which means it's easily accessible from just about anywhere in Tokyo! Plus, there are a few other areas nearby that are worth checking out at the same time. Just a 3-minute train ride (or 20-minute walk) to the north is Ueno (with its park, the zoo, museums, and plenty of nightlife), and about the same distance to the south of Akihabara is the Tokyo Station area. The more traditional neighborhood of Asakusa is only about 5 to 10 minutes away by train (depending on whether you take the Tsukuba Express or the Tokyo Metro), and while Kanda Myojin is popular in its own way, the shrine has nothing on the crowds that gather at Asakusa's famous Sensoji Temple! There's lots to do in Akihabara, but when you expand your options to include its surroundings, the possibilities are endless.
---
Basic Info
Name: Akihabara (秋葉原)
---
For more info and updates from Japan, check Japankuru for new articles, and don't forget to follow us on Twitter, Instagram, and Facebook!
Source: JAPANKURU